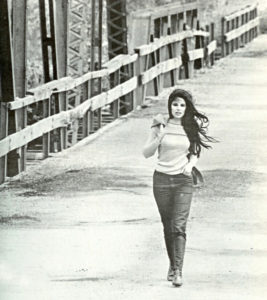 Bobbie Gentry's "Ode to Billie Joe" turns fifty years old next month, and we're still listening to it—and talking about it. I was eleven years old when Gentry's most famous record was released, and I have the strongest possible memories of the haunting impression that it made on me. I couldn't hear it often enough. I still find it haunting a half-century later, albeit for somewhat different reasons.
Like everyone else who first heard "Ode to Billie Joe" on the radio when it was new, I was fascinated by its "puzzle" aspect. What was it that Billie Joe McAllister and the unnamed first-person narrator—presumably Gentry herself—threw off the Tallahatchie Bridge, and why did Billie Joe throw himself off the bridge shortly thereafter? (For what it's worth, most of the people whom I knew back then took it for granted that the song had something to do with an unwanted pregnancy, an interpretation that I continue to find plausible.) Suicide was an utterly alien notion to me in those days, thus making the song all the more intriguing. In addition, "Ode to Billie Joe" is, like Rupert Holmes' "Escape (The Piña Colada Song)" and Louis Jordan's "Saturday Night Fish Fry," a song that tells a story, a genre that rarely hits big but is always irresistible on the rare occasions when it does so.
For me, though, there was far more to the appeal of "Ode to Billie Joe" than its enigmatic story. To begin with, Gentry's sultry mezzo voice was sexy, a quality that I had only just begun to appreciate, however vaguely, in 1967. It was also tinged with the rich, loamy colors of the blues, a music that would soon become infinitely important to me but of which I then knew nothing. Her singing was a glimpse of my future, the evidence of things unheard.
And now? I strolled into our living room the other night as Mrs. T was watching Rosanne Cash sing "Ode to Billie Joe" on TV, and found myself swept up anew into its mystery. This time, though, what struck me most forcibly was how redolent the song is of the lost world of my childhood.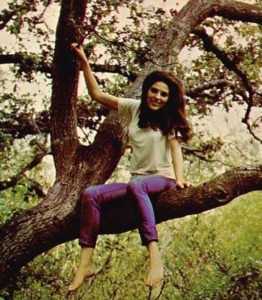 To be sure, I didn't grow up in Mississippi, but Smalltown, U.S.A., positioned as it is on the edge of the Deep South, was and is a place where people live and speak very differently than they do up north. Even when it's sung by someone who doesn't have the kind of southern accent that always fills me with intense nostalgia—and Rosanne Cash's faded childhood accent reasserts itself whenever she sings the song—the lyrics are full of phrases that waft me back to the place where I was born: Child, what's happened to your appetite? I've been cookin' all morning and you haven't touched a single bite….Well, Billie Joe never had a lick of sense. Pass the biscuits, please….Mama hollered out the back door, "Y'all remember to wipe your feet." The only other song I know that has that effect on me is Lucinda Williams' Car Wheels on a Gravel Road, which reminds me no less powerfully of Sunday-afternoon visits to the invisibly tiny Missouri town where my mother grew up and her mother lived.
I've never met Bobbie Gentry, and never expect to. She withdrew from the world long ago, undoubtedly disillusioned by the realities of her brief taste of fame. But if I were ever to do so, I know what I'd do: I'd thank her for "Ode to Billie Joe," a message in a musical bottle that will always remind me of what it felt like to be an eleven-year-old boy, peering across the ocean that separates childhood from the unimaginable future of maturity.
* * *
Bobbie Gentry sings "Ode to Billie Joe" on the BBC in 1968. The string arrangement, also heard on the original recording, is by Jimmie Haskell:
Rosanne Cash and John Leventhal perform "Ode to Billie Joe" at MASS MoCA's 2016 "FreshGrass" festival: