In my "Sightings" column, which appears in the online edition of today's Wall Street Journal, I discuss two new books about Van Cliburn. Here's an excerpt.
* * *
Van Cliburn isn't exactly forgotten—not quite. All of his albums remain in print, and he has a permanent place in the history of classical music in America. Moreover, the quadrennial Van Cliburn International Piano Competition, which is currently underway in Fort Worth, continues to keep his name greenish. But Cliburn, who died in 2013, isn't nearly as well known today as he was a half-century ago, when he was one of the biggest names in music, regardless of genre. Merely to see a photo of the six-foot-four Texan with the baby face and curly hair was to be instantly reminded of how he had traveled to Moscow in 1958, won the Tchaikovsky Piano Competition at the height of the Cold War, and returned in triumph to the U.S., there to be feted with a ticker-tape parade through Manhattan….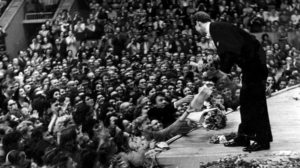 So it's a pleasant surprise, at least for those of us who loved Cliburn's rich-toned, warmly expansive playing, to learn that a book about his victory in Moscow has recently been published—seven months after another book on the same subject.
Stuart Isacoff's "When the World Stopped to Listen: Van Cliburn's Cold War Triumph, and Its Aftermath," which came out in April, is the more informed of the two volumes, a tightly focused monograph that concentrates on Cliburn's Tchaikovsky Competition win and profits from the fact that its author is himself a pianist, one who also writes about music for the Journal. If you want to know why Cliburn played the way he played—and how his distinctive style helped him win—then Mr. Isacoff is your man. Nigel Cliff's "Moscow Nights: The Van Cliburn Story—How One Man and His Piano Transformed the Cold War," by contrast, is as chattily discursive as its title (it's 160 pages longer than "When the World Stopped to Listen"). Neither a full-scale biography nor a proper study of Cliburn and the Cold War, it falls awkwardly between two stools…
No matter which book you choose, you'll profit from the opportunity to learn more about Cliburn's overnight ascent to worldwide celebrity, and the cracks that it opened up in his already unstable personality….
* * *
Read the whole thing here.
A Russian telecast of Van Cliburn's prize-winning 1958 Moscow performance of Tchaikovsky's First Piano Concerto, accompanied by Kirill Kondrashin and the Moscow State Philharmonic Academy Orchesetra. Nikita Kruschchev, who attended the performance, can be seen applauding Cliburn's entrance: