In today's Wall Street Journal I review a Massachusetts revival of Amy Herzog's 4000 Miles. Here's an excerpt.
* * *
Amy Herzog stepped into the spotlight of theatrical notoriety when "4000 Miles," the best play by an up-and-coming author that I've ever reviewed in this space, transferred to Lincoln Center Theater in 2012 after a brief off-Broadway run. It should by all rights have moved from there to Broadway, but "4000 Miles" was successful enough as is: It was taken up by regional theaters throughout America, and Ms. Herzog went on to establish herself as this country's most gifted under-40 playwright. Now, a month after "Mary Jane," her latest play, was premiered by the Yale Repertory Theatre, "4000 Miles" has been revived by Shakespeare & Company in a production at least as fine as the one that I saw and admired five years ago in New York….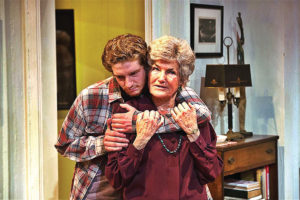 Like her other plays, "4000 Miles" is a small-scale character study reminiscent of Chekhov in its emphasis on personality over plot. At its center is Vera (Annette Miller), a crusty 91-year-old Jewish grandmother who is teetering on the near edge of senility (the most frequently used word in her shrinking vocabulary is "whaddayacallit") but has no intention of giving up without a fight. When Leo (Gregory Boover), her spacy 21-year-old grandson, stops in for a visit after a cross-country bicycle trip from Seattle to New York, Vera puts him up for a couple of weeks. That's pretty much all that happens, though we also meet Bec (Emma Geer), Leo's earnest ex-girlfriend, and Amanda (Zoë Laiz), a drunken young Chinese-American woman whom he picks up at a bar and with whom he doesn't quite manage to have sex. For the most part, though, "4000 Miles" is all about the relationship between Vera, an unrepentant Communist, and Leo, a child of the therapeutic generation who thinks "Marx is cool" and utters sentences like "And I was like, first of all, who knows." Separated by a yawning gulf of age and experience, they manage to meet somewhere in the middle…
This revival, staged with poignant, self-effacing delicacy by Nicole Ricciardi, is an ideal showcase for the talents of Ms. Miller, a Shakespeare & Company veteran who gives the kind of performance you'll be talking about days after you see it. Her Vera is tough and unselfconsciously gallant, a woman whose mental powers are failing fast but who stares into the abyss with something not unlike glee. I've never seen a more vividly detailed stage portrayal of extreme old age—merely to see her get up from a couch is to receive an acting lesson…
* * *
Read the whole thing here.
A scene from the 2012 Lincoln Center Theater production of "4000 Miles," starring Mary Louise Wilson and Gabriel Ebert: