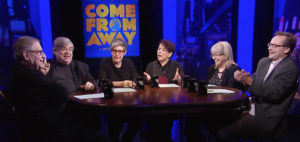 My most recent appearance on Theater Talk, the weekly TV series hosted by Susan Haskins and Michael Riedel, is being telecast in two parts. As was the case last week, I'm part of a panel of drama critics discussing the spring season on Broadway. Peter Marks, Elisabeth Vincentelli, Linda Winer, and I have even more to say on the latest hit shows, some of it testy but all of it, I hope, good-humored. (The remainder of the episode is devoted to an interview with Joel Gray.)
If you live in the New York area, our second episode will air on WNET at 1:30 a.m. on Friday (or, to be exact, Saturday morning) and 11:30 a.m. on Sunday. As always, it will also be televised on other channels, and you'll be able to view the episode on line next week by going here.
For more information on air dates and times, go here.