This week's Wall Street Journal "Sightings" column is a tribute to two patriotic virtuoso piano showpieces. Here's an excerpt.
* * *
Like all red-blooded Americans, I love fireworks, whether in the sky or on the stage. Anyone who isn't thrilled by the high-wire theatricality of a virtuoso performer needs to have his hypothalamus examined. I also love the Fourth of July, the national holiday on which it's customary to set off skyrockets of the non-musical kind. Alas, the classical musicians of today seem increasingly disinclined to display the heart-on-sleeve patriotism that led Van Cliburn to open his recitals with "The Star-Spangled Banner," and to play it with the utmost splendor and conviction….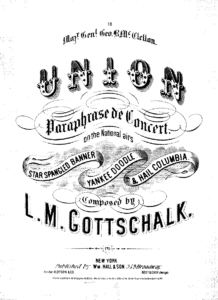 This is undoubtedly one of the reasons why I've never heard a concert performance of either of the two most spectacular exercises in flag-flying pianistic patriotism that I know, Louis Moreau Gottschalk's "The Union" and Vladimir Horowitz's transcription of "The Stars and Stripes Forever." The other reason is that both pieces are monstrously, knuckle-crunchingly hard to play. But they make for irresistibly pleasurable listening…
Gottschalk's French-sounding given names obscure the fact that he was America's first important native-born composer. In "The Union," composed in 1862, he proudly wore his nationality on his sleeve. The piece's subtitle, "Concert Paraphrase on National Airs," situates this seven-minute medley of three patriotic songs in its proper musical context: It's an all-American version of a Liszt-style operatic fantasy, a showpiece in which familiar melodies are cleverly woven together, then festooned with fantastically complex technical stuntwork. In "The Union," though, the melodies are not arias by Rossini or Verdi but "Hail, Columbia," "The Star-Spangled Banner" and "Yankee Doodle." Gottschalk chose these songs because he wrote "The Union" as an act of musical homage to the Northern side in the Civil War….
Vladimir Horowitz brought off a comparable feat of patriotic prestidigitation when he transcribed "The Stars and Stripes Forever," the most famous and beloved of John Philip Sousa's 137 marches for military band. Arturo Toscanini, Horowitz's father-in-law, started performing "The Stars and Stripes Forever" with the NBC Symphony in 1943 as a wartime tribute to the U.S. armed forces. Horowitz, a refugee from Soviet Russia who became a naturalized U.S. citizen the following year, heard a Toscanini performance and decided to arrange the march as a gesture of gratitude to his new-found homeland. The results were an instant hit…
* * *
A slightly shorter version of this column appears in the print edition of today's Journal. To read the complete online version, go here.
Leonard Pennario's 1974 studio recording of "The Union":
Vladimir Horowitz plays "The Stars and Stripes Forever" in concert at the Hollywood Bowl in 1945: