In today's Wall Street Journal I review a Connecicut revival of Peter Shaffer's Lettice and Lovage. Here's an excerpt.
* * *
A year after his death, Peter Shaffer has receded into the shadows of forgotten fame. It scarcely seems possible that the playwright who gave us "Amadeus" and "Equus," two of the biggest theatrical hits of the postwar era, should now be so ill-remembered on this side of the Atlantic, but it makes unhappy sense of a sort. Most of his plays are big machines that require large and costly casts to bring off, which makes them dicey for Broadway and riskier still for even the most ambitious regional theaters. In any case, his old-fashioned brand of serious middlebrow theater has fallen from favor: "Amadeus" and "Equus" are the only major plays by Mr. Shaffer ever to have been revived on Broadway, and neither revival was more than modestly successful. So it's great news that "Lettice and Lovage," Mr. Shaffer's last hit, is now being performed by Westport Country Playhouse. Written in 1987 as a vehicle for Maggie Smith, it's a chokingly funny farce enriched by a savory touch of seriousness, and Mark Lamos' smart staging never puts a foot wrong.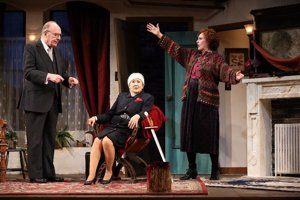 In "Lettice and Lovage," we make the acquaintance of Charlotte (Mia Dillon), an imperious bureaucrat whose shell of melancholy prissiness is smashed to bits when she makes the acquaintance of Lettice (Kandis Chappell), a splendidly flamboyant tour guide whose job it is to tell bored tourists about "the dullest house in England." Instead of sticking to the colorless story of Fustian House, Lettice starts rolling her own anecdotes, the wilder the better, and Charlotte, her supervisor, is forced to fire her. Naturally, the two women become friends, and this being a farce, their friendship soon attracts the attention of the police….
The role of Lettice, created by Dame Maggie, is the plummiest of plum parts, and Ms. Chappell wears it like a perfectly tailored, fabulously elaborate period costume. It's pure pleasure to catch the loony glint in her eye as she elaborates with quick-rising implausibility on the dull history of Fustian House. Ms. Chappell was forced to step into the part a week before the show opened when the actor originally hired by Mr. Lamos fell ill, but you wouldn't have known it from her opening-night performance, which was totally assured. As for Ms. Dillon, she's nothing short of ideal as Charlotte…
* * *
Read the whole thing here.
Dame Maggie Smith and Margaret Tyzack appear in an excerpt from the 1990 Broadway production of Lettice and Lovage, originally telecast as part of that season's Tony Awards show: