In today's Wall Street Journal drama column I review two New York shows, Smart People and the Broadway transfer of The Humans. Here's an excerpt.
* * *
Lydia R. Diamond's "Stick Fly," which made it to Broadway in 2011, showed us a slice of American life, the black upper class, that is scarcely ever portrayed on stage. It didn't quite work, but the best parts were so fine that I've been longing to see something else by Ms. Diamond ever since. Now Second Stage Theatre has mounted the New York premiere of "Smart People," her latest play, and loud, long cheers are definitely in order: I have no doubt that it marks the decisive emergence of a distinctive voice in American theater.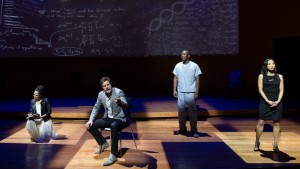 "Smart People" is set in and around Harvard. The characters are Valerie (Tessa Thompson), a light-skinned black stage actor who would be struggling were she not the scion of a well-heeled family; Jackson (Mahershala Ali), a dark-skinned black surgical intern who runs an inner-city clinic on the side; Ginny (Anne Son) a Chinese-Japanese-American psychologist-professor who studies "race and identity among Asian-American women"; and Brian (Joshua Jackson), a white neuroscientist who believes he's proved that white people are biologically predisposed to racism. All four are very smart, very attractive, very smug, very prickly, and competitively progressive, by which I mean that they preface every other sentence they utter by assuring you of the impeccability of their liberalism: "My politics are such that I can make that joke. With people who know me." They are, in short, comfy inhabitants of the academic monoculture—but not nearly as comfy, or as pristinely free of prejudice, as they suppose themselves to be.
At bottom "Smart People" is a sharp-edged satire, and Ms. Diamond's ear for the foibles of her subjects is so precisely tuned as to make "Clybourne Park" and "Disgraced" sound downright tone-deaf….
Stephen Karam's "The Humans" stirred up a huge fuss when it ran off Broadway last year. Now that I've caught the Roundabout Theatre Company's Broadway transfer, I can't quite figure out what all the shouting was about. It's a kitchen-sink family drama about a Thanksgiving dinner gone wrong, the sort of play that appears to have been written according to an outdated version of what I think of as the Social Issues Checklist. (Dementia? Check. Middle-class unemployment? Check. 9/11? Check. Wait a minute—9/11?)
To be sure, "The Humans" is passably well made, or would be were it not for the way in which the author stirs up expectations of a spookily melodramatic coda on which he fails to deliver, but none of the characters says or does anything that isn't perfectly obvious…
* * *
To read my review of Smart People, go here.
To read my review of The Humans, go here.
Lydia R. Diamond talks about the writing of Smart People: