In today's Wall Street Journal "Sightings" column I take a closer look a theatrical controversy in Los Angeles that made national headlines. Here's an excerpt.
* * *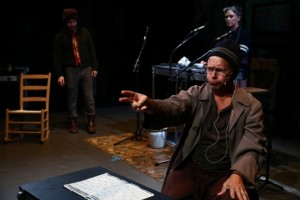 You may have heard about the tempest that blew up last week over "The Room," Harold Pinter's first play. Written in 1957, it was revived in Los Angeles by the Wooster Group, a New York-based experimental theater troupe. A few days before the show was set to open, the Wooster Group and Redcat, the Los Angeles theater presenting "The Room," put out a press release stating that Samuel French Inc., which handles the U.S. rights to Pinter's plays, had refused to license this one unless the following condition was observed: "There may be absolutely no reviews of this production." In other words, Redcat couldn't invite drama critics. Mark Murphy, Redcat's executive director, responded by hinting very broadly that Samuel French was treading on the free-speech rights of both the company and the critics: "It seems strange to me that anyone would think critical discourse about this seminal play could be somehow harmful."
Free speech being the most sacred of journalistic rights, it stands to reason that the Los Angeles Times and the New York Times decided to run news stories about the controversy, and that the American Theatre Critics Association attacked the ban as "objectionable behavior that tries to restrict not only artistic freedom of expression, but also freedom of the press." Not at all surprisingly, Charles McNulty, the drama critic of the Los Angeles Times, bought a ticket and reviewed the show anyway. (For the record, he didn't much care for it.)
But is that the whole story? Not quite.
To begin with, the Wooster Group goes in for high-concept productions that may or may not have anything to do with the plays they're staging. When it produced Eugene O'Neill's "The Emperor Jones" in 1992, the title role, written for a black actor, was played by a white woman in blackface. So I initially assumed that the Pinter estate had ordered Samuel French to put the squeeze on what Mr. McNulty described as the Wooster Group's "postmodern high jinks." Had that been the case, I might well have flown to Los Angeles to raise the free-speech flag by reviewing the show myself. But like many snap assumptions, this one didn't stand up to closer scrutiny. In a statement of his own, Bruce Lazarus, Samuel French's executive director, said flatly that the Wooster Group had "announced the Los Angeles premiere…before securing the rights" to "The Room" and that the Pinter estate "would have withheld the rights" had it been asked first….
* * *
Read the whole thing here.