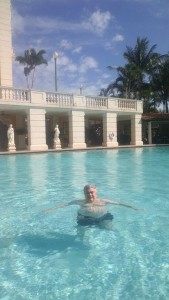 I turned sixty on Saturday. Mrs. T and I didn't throw a party, though. That might have been fun, but we were staying at Florida's Biltmore Hotel, which is surely enough of a celebration for any reasonable person, and we don't know anybody who lives in Coral Gables.
Instead of having a couple of dozen friends over to mark the occasion, I spent the morning reading "Calvin and Hobbes" strips,, my latest enthusiasm. Then we went downstairs, ate a late and leisurely brunch consisting mainly of fresher-than-fresh fruit, and sat in the sun by the Biltmore's famous pool, where I heard a bossa-nova cover version of "Jumpin' Jack Flash" that made me giggle, though I actually rather liked it. Except for taking a single theater-related phone call at poolside, I did no work of any kind. In the evening we had a very nice dinner at Fontana, and that was that.
Turning sixty, I'm told, is a big deal. I can't say that it feels especially big, though, nor do I feel nearly as old as I am, save on the too-frequent occasions when I have trouble pulling a name out of my hat. (I've reached the time of life when I forget the names of old friends who are standing next to me, waiting patiently to be introduced to new ones.) George Bernard Shaw said it: "Any fool can be 60 if he lives long enough."
It was a much bigger deal when I turned fifty. Not only had I come perilously close to dying just two months earlier, but I met the woman who became Mrs. T right around the same time. Everything that has happened to me since then is an outgrowth of those two encounters, the first with the imminent prospect of death and the second with the possibility of the more abundant life that I am now privileged to live for as long as it lasts.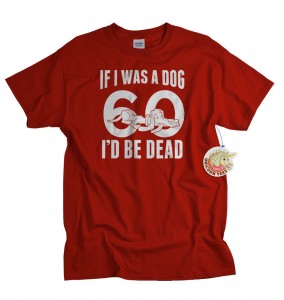 How should I spend whatever is left of it? Cardinal Newman warns us to "use well the interval," the unknown amount of time that separates every man from his inescapable appointment with the Distinguished Thing. In an attempt to take stock, I looked up what I wrote in this space on my fiftieth birthday, and found these words:
So what do I do next? Like many people, my life has been a series of goals, a things-to-do list, and at fifty I now find myself in the position, at once pleasing and disconcerting, of having accomplished most of them. As for the things I haven't yet done, nearly all of them are things I'm no longer likely to do, assuming I ever was: I doubt, for instance, that I'll learn a second language or write a novel or become a father. I could spend the rest of my life running in place, and I suppose that would be perfectly fine. Except that I know it wouldn't. The time will come, if it hasn't already, when I'll want to try my hand at something new—and I haven't the slightest idea what it might be.
Well, I didn't learn a second language or write a novel or become a father, but I did do plenty of other unexpected things, the most surprising of which was that I started writing for the stage. Indeed, Dramatists Play Service, the publishers of Satchmo at the Waldorf, informed me last month that my first play is now tied for tenth place on its its Top Professional Licenses list. Satchmo, in other words, has become something of a hit.
As for meeting and marrying Mrs. T, I can't begin to tell you what that has meant to me, so I won't even try. Suffice it to say that I wouldn't have dared to write Satchmo, much less The Letter, without the continuing inspiration of her presence. She is everything to me.
So…what do I do next?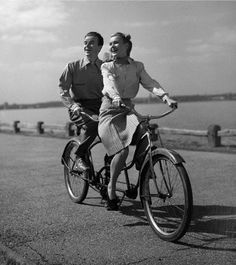 Regular readers of this blog know the obvious answer to that question: I'll be making my professional directing debut in May with Palm Beach Dramaworks' production of Satchmo at the Waldorf. That's a pretty unusual thing for a sixty-year-old man to do, and I can't wait to plunge head first into the next chapter of my brand-new part-time career.
Right now, though, I'm more than content to sit in the sunshine, hit my deadlines, and think about how I want Satchmo to look and sound on stage when May 13 rolls around. Beyond that, I have no plans, and for the moment I don't really feel that I need any. I suppose I could spend the rest of my life running in place, but I'm pretty sure I won't. And if such should prove to be my fate, then at least I'll be running in tandem—which is, after all, what matters most.
* * *
The last scene of The Candidate, a 1972 film directed by Michael Ritchie, written by Jeremy Larner, and starring Robert Redford, Peter Boyle, and Melvyn Douglas: