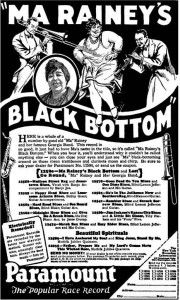 In today's Wall Street Journal drama column I review a show in Sarasota, Florida, Westcoast Black Theatre Troupe's revival of August Wilson's Ma Rainey's Black Bottom.
I also take note of the off-Broadway remount of Bedlam's 2014 stage version of Jane Austen's Sense & Sensibility, which I called "by far the smartest Jane Austen adaptation to come along since Amy Heckerling's Clueless, and at least as much fun," when I originally reviewed it in the Journal.
Here's an excerpt.
* * *
August Wilson's ten "Pittsburgh Cycle" plays, in which he chronicled the black experience in America, haven't been done nearly often enough in New York since his death in 2005. Only three of them have ever been revived on Broadway. Fortunately, they long ago became staple items in the repertories of America's regional theaters, and I seek them out whenever I'm on the road. That's what brought me back to Westcoast Black Theatre Troupe, a Florida company that performs black-themed musicals and plays for a largely white audience (Sarasota County, its home base, is only 4% black). I liked what Westcoast Black did with Charles Smith's "Knock Me a Kiss" last January, and I'm even more impressed by its version of "Ma Rainey's Black Bottom," Wilson's 1984 history play about a real-life blues singer of the Twenties (played by Tarra Conner Jones) who outlived her popularity. This small-scale staging, directed by Chuck Smith and performed in the company's black-box theater, is one of the best-acted Wilson revivals I've seen in recent seasons, and the acting gains in impact from being viewed in so compact a space….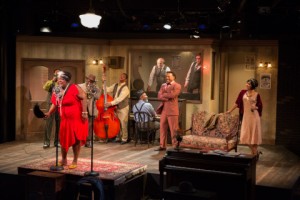 Not much seems to happen in "Ma Rainey's Black Bottom" until the end of the evening. Rainey and her band (Robert Douglas, Kenny Dozier, Patric Robinson and Henri Watkins) come to a dingy recording studio in Chicago to cut a few tunes. The musicians arrive early, sit around the rehearsal room, swap stories and share a joint. At length Rainey and her entourage show up. After a snarling who's-in-charge-here skirmish with her manager (Stephen Emery) and the producer of the session (Terry Wells), both of whom are white, Rainey finally gets down to business, makes the records and stalks out. That's when the bomb goes off…
You can't write a play in this way without a preternaturally keen ear, and Wilson's ability to quarry glittering nuggets of folk poetry out of the everyday speech of common men ("Levee would complain if a gal ain't laid across his bed just right") remains unrivaled. But you can't stage such a play effectively without actors who can deliver the dialogue in a completely spontaneous-sounding way—and a director who knows how to weld them together into a true ensemble. In this production, Mr. Smith and his cast have hit the high C of absolute authenticity….
* * *
To read my review of Ma Rainey's Black Bottom, go here.
To read my original review of Sense & Sensibility, go here.
Ma Rainey's 1927 Paramount recording of "'Ma' Rainey's Black Bottom." The session that produced this 78 side is portrayed in August Wilson's play: