In today's Wall Street Journal drama column I write about the off-Broadway premiere of John Patrick Shanley's Prodigal Son and a revival of Terrence McNally's It's Only a Play in Coral Gables, Florida. Here's an excerpt.
* * *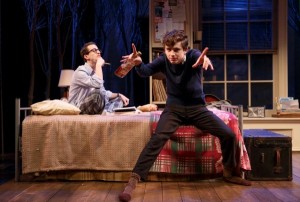 Most playwrights quarry their own lives for subject matter, but some are more honest about it than others. John Patrick Shanley acknowledges up front in a program note that "Prodigal Son," his latest play, is "a true story for the most part," though I probably would have suspected as much: It's a memory play about an unhappy 15-year-old Irish Catholic boy from a blue-collar Bronx neighborhood who lands a scholarship to a boarding school in New Hampshire, where he promptly gets himself in the hottest kind of disciplinary water. Finely directed by the author himself and exceptionally well acted by a five-person cast led by Timothée Chalamet, "Prodigal Son" is a heart-sore portrait of adolescent turmoil that bears the stamp of hard-earned truth on every page.
Mr. Chalamet, lately of "Homeland," plays Jim Quinn, Mr. Shanley's not-very-fictional alter ego, whom the headmaster at Thomas More School (Chris McGarry) describes as "the most interesting mess we have this year." A mercurial, self-consciously sharp-witted boy poet with a fanciful streak and an inclination to violence, Jim longs above all things to be valued, but pushes away anyone who tries to do so—sometimes, as we discover in the course of "Prodigal Son," with good reason….
Mr. Chalamet is perfect as Jim—gawky, eager, full of awkward yearning—and his supporting cast is marvelous, especially Mr. McGarry, who gives the impression of being at once completely relaxed and tautly controlled (as is the character he plays). Authors don't always serve themselves well as directors, but Mr. Shanley's staging of "Prodigal Son" is disciplined and direct…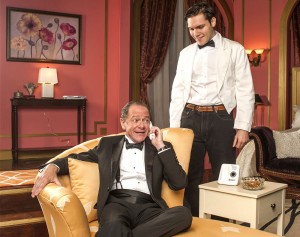 "It's Only a Play," Terrence McNally's 1982 backstage farce about the opening-night party for a play that gets roasted by the critics, was given a new lease on commercial life by a Jack O'Brien-directed 2014 Broadway revival that starred Nathan Lane, Matthew Broderick, Stockard Channing and F. Murray Abraham. Now Florida's GableStage, whose intimate 150-seat theater is located in Coral Gables' Biltmore Hotel, is presenting a production of the same play that doesn't have any stars but is fully as funny.
While the effectiveness of this production is partly due to the quality of Mr. McNally's one-liners, it has at least as much to do with Joe Adler's direction. GableStage performs in a wide, shallow space that is hard to use effectively, but Mr. Adler knows its quirks and makes the most of them…
* * *
To read my review of Prodigal Son, go here.
To read my review of It's Only a Play, go here.
A scene from the premiere production of Prodigal Son, starring Timothée Chalamet and Chris McGarry: