In today's Wall Street Journal I review a show in Sarasota, Florida, Asolo Repertory Theatre's revival of Eugene O'Neill's Ah, Wilderness!. Here's an excerpt.
* * *
It's one of the American theater's supreme ironies that Eugene O'Neill, the grimmest of our great playwrights, somehow managed to write a play as hopeful as "Ah, Wilderness!" First performed in 1933, it is his only comedy, a sweet but not sugary coming-of-age tale that unfolds in Waterbury, a small Connecticut town, on July 4, 1906. O'Neill wasn't joking when he described "Ah, Wilderness!" as "not in the satiric vein." On the contrary, it's as sunny as the day that it describes. But bright sunshine casts dark shadows, and part of what makes "Ah, Wilderness!" so excellent is that it doesn't ignore the complexities of life. So it's good news that Sarasota's Asolo Repertory Theatre is presenting a revival of "Ah, Wilderness!" that is finely acted, intelligently staged and outstandingly well designed—in short, everything I've come to expect from Asolo Rep.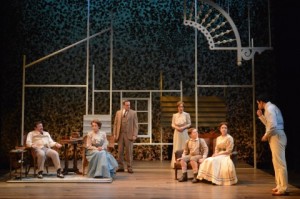 O'Neill described "Ah, Wilderness!" as "a sort of wishing out loud. That's the way I would have liked my childhood to have been." Another way to understand it is as a near-exact inversion of "Long Day's Journey Into Night," his autobiographical tragedy about an Irish-American family on the brink of devastation. It, too, features a magnetic patriarch (David Breitbarth) and his idealistic son (Tom Harney). But Nat Miller, the father, is not a tyrannical stage actor but an even-tempered, worldly-wise newspaper editor who isn't as provincial as he looks, while young Richard is destined for a life as conventional as his father's. All he needs to steer clear of the looming slough of adolescent despond is some gentle parental guidance—and he gets it, this being a comedy, though not without a leavening touch of farce along the way.
Yet "Ah, Wilderness!" isn't at all bland. Like Thornton Wilder in "Our Town," which followed it to Broadway five years later, O'Neill takes care to remind us that life in Waterbury can also be full of frustration. Take Sid (Douglas Jones), Nat's bright but ineffectual brother-in-law, whose chronic alcoholism has kept Essie (Peggy Roeder), Nat's spinster sister, from marrying him. Sid is charming, but he's also pitiful…
Asolo Rep, which is both a professional theater company and a drama school, is in a position to revive large-cast plays with elaborate scenic requirements, and it does so consistently and effectively, casting them with a mixture of veteran regional stage actors and promising students. Mr. Jones, for example, stole the show as the racist juror in Asolo's 2011 production of "Twelve Angry Men," and he's no less impressive this time around, gracefully conveying the melancholy beneath Sid's geniality….
* * *
Read the whole thing here.
The trailer for Clarence Brown's 1935 film version of Ah, Wilderness! The screenplay was adapted from Eugene O'Neill's original stage play by Frances Goodrich and Albert Hackett. Lionel Barrymore plays Nat and Wallace Beery plays Sid:
CORRECTION: A reader points out that Ah, Wilderness! actually takes place in an unnamed, fictionalized version of New London, the O'Neill family's summer home, not Waterbury, the real-life Connecticut town mentioned by name in the play to which Sid has been exiled. My apologies.