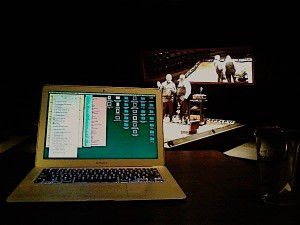 On Tuesday afternoon I was sitting in the auditorium of Chicago's Court Theatre, watching Charlie Newell reblock the final scene of his production of Satchmo at the Waldorf, which opens there on Saturday. Midway through the scene I received an e-mail from Eric Gibson, my editor at The Wall Street Journal. He informed me that "Sightings," my biweekly Journal column about the arts, was being moved from Fridays to Thursdays, effective immediately, and asked me to stand by to read and approve the copyedited version of this week's column, which would be arriving shortly via e-mail.
Two minutes later my cellphone rang. It was Gordon Edelstein, who is in San Francisco remounting his production of Satchmo at the Waldorf, which opens next Wednesday at American Conservatory Theater. He and John Douglas Thompson wanted to know if they could change two words in the script.
As Gordon was reading the proposed change to me over the phone, I received a second e-mail from the Journal, this one containing my copyedited column. I started going through it as I listened to Gordon. Then, a minute or so later, I realized that someone in the auditorium was talking to me. It was Charlie, asking what I thought of a new music cue that he was trying out.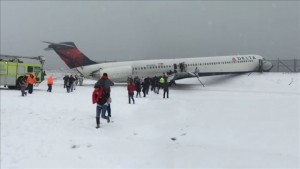 What about today? Well, I got up at five in the morning and went to Midway Airport. By the time you read these words, I'll be somewhere between Chicago and New York, where a car will meet me at LaGuardia Airport and take me to the American Airlines Theatre to see a press preview of Noises Off. After the show I'll go home and open my mail, then return to Broadway, where I'll see a second press preview at the Samuel J. Friedman Theatre, this one of Our Mother's Brief Affair, Richard Greenberg's new play. I'll have dinner with a friend after the show, then go back home, write my review of Noises Off for Friday's Journal, and fall into bed.
On Thursday morning I'll get up at six, send in my Noises Off review, go to LaGuardia, and fly back to Midway, where a waiting car will drive me directly to the Court Theatre to attend the final rehearsal of Satchmo, which should be getting underway shortly after I arrive.
Yes, I know, I asked for it—but maybe not quite so much of it, and definitely not all at once.
* * *
W.C. Fields performs his vaudeville juggling act in The Old Fashioned Way, directed by William Beaudine and released in 1934: