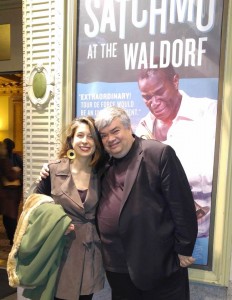 Satchmo at the Waldorf opened in San Francisco last Wednesday. I flew back to Florida's Sanibel Island and my beloved Mrs. T early the next morning, having spent the preceding eleven days bouncing ceaselessly (if not altogether tirelessly) from coast to coast, opening Satchmo in Chicago and reviewing plays on Broadway.
I'm not quite done with Satchmo. Mrs. T and I drove to Sarasota on Saturday to review two shows and spend two weeks on Longboat Key. Today, though, I'm flying up to Chicago for a one-nighter, an appearance at a symposium that is part of the Court Theatre's ongoing Louis Armstrong Festival. But I'll return to Sarasota first thing Tuesday, and once I'm there, I'm there: no rehearsals, no opening nights, no receptions. For now, I'm done with Satchmo.
John Patrick Shanley, the author of Doubt, is currently rehearsing a new play in New York. He tweeted something about it the other day that caught my eye: "Prodigal Son is taking off, leaving me in the dust. Soon it won't need me anymore. For a playwright, this kind of abandonment is a victory." I'm starting to know what he means. A third production of Satchmo at the Waldorf opened in New Hampshire last Friday, but I wasn't there, just as I won't be there when the San Francisco production transfers to Colorado Springs in February. Satchmo now belongs to Lawrence E. Street, Barry Shabaka Henley, John Douglas Thompson, and the theater companies that are currently producing it. For better or worse, my first play now has a life of its own. It doesn't need me anymore.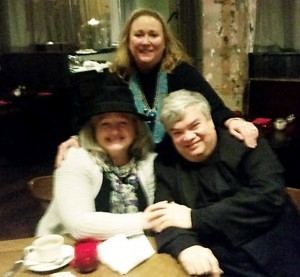 It feels strange to leave Satchmo behind, but it's also something of a relief. Even when it goes well—perhaps especially when it goes well—opening a show out of town can be a lonely business. To be sure, I have old friends in Chicago and San Francisco who were kind enough to keep me company there, and I also love the wonderful new friends that I've made at American Conservatory Theater and the Court. Yet I missed Mrs. T fiercely during my long trek through the time zones, and by the time it was over, I was bone-tired of living out of a carry-on bag and never being quite sure when to go to bed.
I guess I'm too old—and too happily married—to fully embrace the way of life about which Bruce Cockburn sings in "Life Short Call Now," one of the saddest songs I know:
Billboards promise paradise
And tattoos "done while you wait"
Possible futures all laid out
On the sweeping curve of the interstate
Got no city, got no land
Got no lover, got no wife
How many ways to say goodbye
Can one man fit in a nomad life?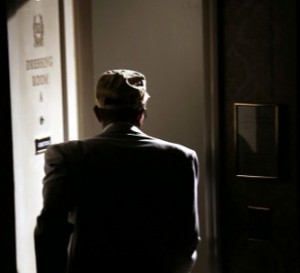 Am I going to miss Satchmo at the Waldorf? I already do. How could I not? A playwright friend of mine accompanied me to opening night in San Francisco, and as I stood next to her at the party after the show, sipping champagne and thanking everybody in sight, I whispered in her ear, "I'm feeling a bit of post-partum depression." She squeezed my hand sympathetically. I knew she knew how I felt. You become habituated to a steady flow of adrenalin when you're rehearsing a play. Once it stops, the blues often set in—but they usually go away before long.
Satchmo and I will be getting together again when I direct it for Palm Beach Dramaworks in May. Until then, I'll be busy living my real life. It's about time.
* * *
Bruce Cockburn sings "Life Short Call Now":