My Wall Street Journal "Sightings" column (which now appears every other Thursday) is occasioned this week by Alicia Kopfstein-Penk's Leonard Bernstein and His Young People's Concerts. Here's an excerpt.
* * *
What was the most important thing to happen to American classical music after World War II? Many knowledgeable observers would point to Leonard Bernstein's appointment in 1957 as the first American-born, American-trained music director of the New York Philharmonic. Were I to single out one of his many achievements as uniquely consequential, though, it would be his Young People's Concerts, which aired on CBS from 1958 to 1972. Pitched to children and adolescents but presented without eat-your-spinach condescension, they became popular with "young people" of all ages….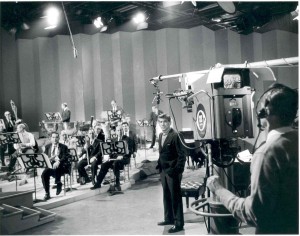 If you watched the Young People's Concerts when they were originally telecast, you'll be pleased to hear that all 53 shows have been uploaded to YouTube, and that they're as good as you remember. Strange, then, that they've never figured prominently in discussions of Bernstein's career. Alicia Kopfstein-Penk's "Leonard Bernstein and His Young People's Concerts," published a year ago by Rowman & Littlefield, is the first full-length study of the concerts—yet I haven't seen any reviews of the book, which received no notice outside professional journals. I wouldn't know of its existence had I not stumbled across a copy by chance in a bookstore. It is a bristlingly well-informed monograph that draws on Bernstein's archives to tell the story of how his Young People's Concerts telecasts came to be, and why they have had no true successors..
One thing I learned from Ms. Kopfstein-Penk was that the concerts were in essence a one-man show. Bernstein "decided on the topics, wrote the scripts, selected the compositions and guest artists…narrated the programs, conducted, and performed." I'm surprised that CBS gave him that kind of artistic control. Even more surprising, half of the concerts aired not on Sunday afternoons, the customary slot for highbrow TV in the '50s and '60s, but in prime time…
Why was CBS willing to give a classical conductor, even one as popular as Bernstein, a full hour of blue-chip prime time four times each year? The answer, according to Ms. Kopfstein-Penk, is that its executives were afraid of the Federal Communications Commission, which regulated the three major TV networks far more stringently in the '60s than it does today. On May 9, 1961, Newton Minow, the FCC's powerful and influential chairman, gave a speech called "Television and the Public Interest" to the National Association of Broadcasters in which he proclaimed that prime-time TV was "a vast wasteland" of "game shows, formula comedies about totally unbelievable families, blood and thunder, mayhem, violence, sadism, murder, western bad men, western good men, private eyes, gangsters, more violence, and cartoons….Is there no room on television to teach, to inform, to uplift, to stretch, to enlarge the capacities of our children?" Mr. Minow warned his listeners that he expected them "to make a conscientious, good-faith effort to serve the public interest." Seven months later, CBS started airing the Young People's Concerts in prime time….
* * *
Read the whole thing here.
"Aaron Copland Birthday Party," a Young People's Concert by Leonard Bernstein and the New York Philharmonic, originally telecast by CBS on February 12, 1961. Bernstein conducts and discusses Copland's An Outdoor Overture, excerpts from Rodeo and Statements, and the orchestral versions of two Old American Songs arrangements (sung by William Warfield). At the end of the program, Copland conducts a complete performance of El Salón México: