In today's Wall Street Journal I review a show in Fort Myers, Florida Repertory Theatre's revival of A.R. Gurney's The Cocktail Hour. Here's an excerpt.
* * *
If A.R. Gurney had been born in 1900 instead of 1930, all of his major plays would have had long runs on Broadway and he would now be universally acknowledged as one of America's leading playwrights. But his penetratingly witty studies of the WASP ascendancy in retreat came along a couple of generations too late to catch the wave of changing theatrical taste, and so he has never had a Broadway hit. Instead, his plays are regularly staged off Broadway and by smart regional companies from coast to coast. Be that as it may, Mr. Gurney is still one of the very best playwrights that we have, and "The Cocktail Hour," which ranks among his finest efforts, is now being performed by Florida Repertory Theatre, one of the top regional troupes in the U.S. If all that sounds to you like a recipe for success, you're not wrong: Florida Rep's production, directed by Chris Clavelli, is the most satisfying staging of "The Cocktail Hour" I've ever seen.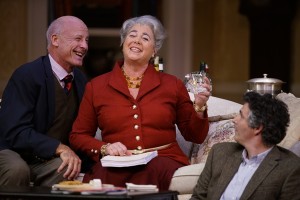 First performed in 1988, "The Cocktail Hour" is a more-or-less autobiographical comedy about John (Brendan Powers), a youngish playwright who comes home to Buffalo, the city where he (and Mr. Gurney) grew up, with a surprise up his sleeve for his priggish parents: His new play is all about them. The title? "The Cocktail Hour," naturally—and it's not a wholly affectionate portrait, either….
Ann (Carrie Lund), John's mother, has the best line, a two-way zinger aimed at drama critics who don't get what her son is up to when he puts WASPs on stage: "They don't like us, John. They resent us. They think we're all Republicans, all superficial and all alcoholics. Only the latter is true." But "The Cocktail Hour" contains plenty of other laughs, more than enough to briefly throw the audience off the trail of Mr. Gurney's intentions. For this is a serious comedy about a family whose members are at odds with one another but are too nice to admit it…
I last saw "The Cocktail Hour" performed by Boston's Huntington Theatre Company in an 890-seat theater whose Broadway-sized stage was a couple of sizes too big for the show. Fort Myers' 393-seat Arcade Theatre, by contrast, is just right, both for the play itself and for the staging. Mr. Clavelli, a longtime member of Florida Rep's semi-permanent ensemble, is as adept a director as he is an actor…
* * *
Read the whole thing here.
A.R. Gurney talks about The Cocktail Hour in an interview conducted in 2000 at his New York home: