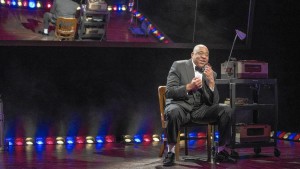 Satchmo at the Waldorf opened to a sold-out house on Saturday at Chicago's Court Theatre. The first-nighters were booming and zooming, and Barry Shabaka Henley fed off their energy all evening long. On Sunday I saw the show twice more, taking six pages of detailed notes that I'll use in putting together my own production, which opens on May 13 at Palm Beach Dramaworks. The Chicago Sun-Times and Chicago Tribune reviews were posted on line a few minutes before the Sunday matinee got underway, and both were excellent. In short, we're off to a good start.
It was a sentimental occasion for me. Kathy, my sister-in-law, came up from Missouri to see the show, as did a number of high-school and college friends whom I hadn't seen for years. (One of them, Melodie Powell, is the daughter of Richard Powell, my very first music teacher.) Mrs. T, alas, is no longer equal to the rigors of Chicago in January—it's two degrees above zero here as I write these words—so she stayed behind on Sanibel Island, sensibly but regretfully. Our Girl in Chicago, my erstwhile co-blogger and all-time best friend, served as her stand-in, and I couldn't have asked for a better opening-night date.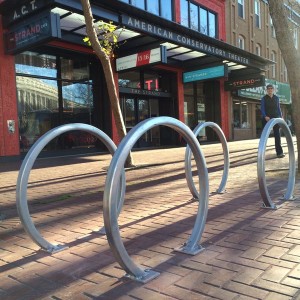 Today I fly to San Francisco, where Satchmo is in previews at American Conservatory Theatre. We open there on Wednesday, and I'll be making several Satchmo-related public appearances between now and then, including a Listening Party appearance tonight at SFJAZZ Center's Miner Auditorium and a live interview on KQED's Forum on Wednesday morning. I also expect to see several more old friends during my brief stay—and, needless to say, I'll be relishing the company of Gordon Edelstein and John Douglas Thompson, the director and star of the production. I've missed them both very much.
Come Thursday I fly back to Florida and resume "civilian" life with Mrs. T. We're seeing Asolo Rep's production of Eugene O'Neill's Ah, Wilderness! in Sarasota on Sunday afternoon, and I'm excited about it. But I'm sure I don't need to tell you that I'll be leaving pieces of my heart behind in Chicago and San Francisco.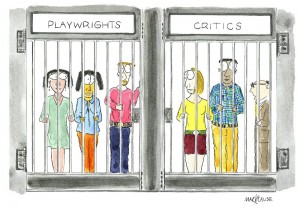 American Theatre, the magazine for the American professional nonprofit theater, runs a monthly contest in which readers are invited to supply a caption for a cartoon. This is the cartoon used in November's contest, the winner of which was just announced. Lou Harry's winning caption read as follows: "We'll trade you Terry Teachout and Eric Bentley for Shaw." I can't remember the last time I've laughed as hard as I did when I read it. Of course I'm still a drama critic and hope always to be one, but it's also true that I've I become, for better or worse, a full-fledged (if not full-time) playwright and stage director-to-be, which I suspect means that you never feel quite right when you're not working on a show.
Fortunately, it looks like I'm going to have plenty of additional opportunities to work on Satchmo at the Waldorf. Dramatists Play Service, the publishers of Satchmo, told me last week that my first play now occupies the #10 slot on DPS' in-house list of its most frequently produced shows. In addition to San Francisco and West Palm Beach, we open in Portsmouth on January 22 and in Colorado Springs on February 18. Beyond that, DPS has approved six productions for the 2016-17 season, with more (we hope) to come.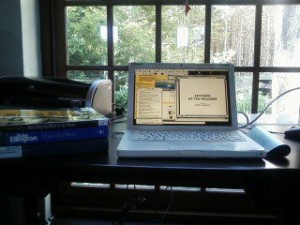 I never dreamed that any of this would come to pass when I sat down in Winter Park in February of 2010 and wrote the first draft of Satchmo at the Waldorf. I'd forgotten the coincidence—if that's what it was—but itso happens that I was starting to write Duke: A Life of Duke Ellington at exactly the same time:
I wanted to get started [on Duke ] right away in order to capitalize on the psychic momentum generated by the events of the past year. A colleague remarked to me at breakfast the other day that 2009 must have been the most eventful year of my professional life to date, and I couldn't argue with him. The twin successes of Pops and The Letter have left me with an exhilarating sense of possibility, a feeling that I can do anything to which I set my mind.

When you're feeling that way, it's a good idea to pinch yourself blue at regular intervals, though life usually gets around to doing that for you sooner or later.
Indeed it does, and I've got the bruises to prove it. I wouldn't have been able to get all the way from there to here without a lot of faith—and a lot of hard work. And yet…it really did happen. So you keep that in mind the next time you feel like saying to yourself, Oh, hell, why bother? It's never going to happen for me. Probably it won't, but sometimes it does. And one thing's for sure: you can't win if you don't play.
* * *
Louis Armstrong performs and talks to Ralph J. Gleason on Jazz Casual, originally telecast on San Francisco's KQED-TV on January 23, 1963: