In today's Wall Street Journal drama column I review the Broadway revival of Noises Off. Here's an excerpt.
* * *
Classic farce—the kind in which doors get slammed at metronomically regular intervals—is hard to write and harder to stage. Not only does it require timing of immaculately finicky exactitude to ensure that the doors slam on time without decapitating anybody, but it works only when the actors conduct themselves with poker-faced seriousness, behaving as though they're unaware that the audience is convulsed by their humiliating plight. Nothing kills farce faster than aren't-we-silliness….
For all these reasons, the classic fin-de-siècle farces of Georges Feydeau and their neo-classical progeny, the dark-to-black comedies of Alan Ayckbourn and Joe Orton and the "translaptations" of David Ives, are scarcely ever seen on Broadway, which favors less comedically challenging fare. But Michael Frayn's "Noises Off," which is widely thought (by me among others) to be the funniest play ever written, give or take Mr. Ives' "The Liar," is a happy exception to that gloomy rule. First seen on Broadway in 1983 and revived there in 2001, it is now being done again, this time by the Roundabout Theatre Company in a production directed by Jeremy Herrin, who made his New York debut last season with the transfer of "Wolf Hall." This revival is as glorious as "Wolf Hall" was dull…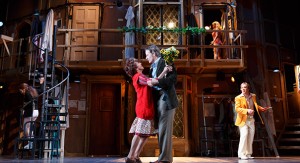 As befits a farce, "Noises Off" is spectacularly complex, consisting as it does of a chaotic rehearsal and two even more chaotic performances of the first act of "Nothing On," a third-rate British sex comedy that is being mounted (so to speak) by a second-rate touring troupe. It is, to put it academically, a metafarce—a farce about farce—into which Mr. Frayn has inserted a near-literal turn of the dramatic screw whose ingenuity borders on genius: The two-story set is turned around during intermission, thus allowing us to witness the calamitous events from the point of view of the hapless actors and crew….
Most theatrical rehearsals aren't remotely as lunatic as this, of course. When things do go wrong, though, they can go really, really wrong, and every disaster portrayed in "Noises Off" has actually happened somewhere or other. What makes the play so funny is that all of them, from the first memory lapse to the last life-threatening pratfall, happen in the same show at the same time. It's Murphy's Law run amuck. The second act in particular is a whirligig of slapstick choreography for whose pristine execution Mr. Herrin deserves the highest possible marks.
The secret ingredient of his production is that Mr. Herrin has gone to similar lengths to ensure that every member of the cast plays for truth, not laughs—which, of course, makes you laugh twice as hard….
* * *
Read the whole thing here.
Highlights from the Roundabout Theatre Company's revival of Noises Off: