Mrs. T and I put up our Christmas tree in Connecticut on Friday afternoon. I drove to a farm not far from our place, picked it out of the field myself, and carted it home for the two of us to trim. This is only the third tree that we've put up together, and like its two predecessors, I treasure it with all my heart.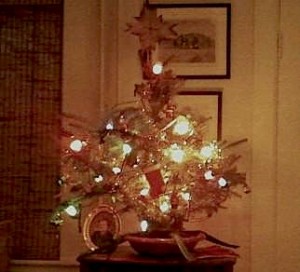 I snapped this picture immediately after we plugged in the old-fashioned lights. The photograph under the tree is a portrait of my mother, with whom I spent all but a handful of my Christmases prior to her death in 2012. It was her favorite holiday, and I think it would have gladdened her heart to know that Mrs. T and I have chosen to so honor her memory.
We opted for a miniature tabletop tree this time around, since it will have to be taken down the day after Christmas. On Saturday we return to New York, and on Sunday we'll be traveling by train from there to Florida's Sanibel Island. Even so, we couldn't delight in it any more than if it were ten feet tall, for it is a symbol of our abiding love. As I wrote in this space eight years ago apropos of our first tree, "To be happy, not in memory but in the moment, is the shining star on the tree of life."
I had that tree in mind when I wrote my favorite scene in Satchmo at the Waldorf, the one in which Louis Armstrong remembers his own first Christmas tree, which was bought and trimmed for him by Lucille, his fourth and last wife. The scene is reprinted below. I put the words in his mouth, but they're all true, and I like to think that the little tree that is twinkling at my elbow as I write these words is not unlike the one that Louis remembers in my play.
I hope you're as lucky as he was—and as I am.
* * *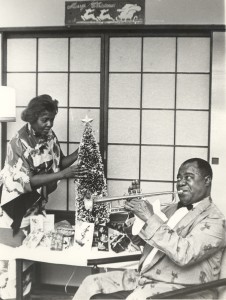 ARMSTRONG First time I laid eyes on Lucille, I says, "That's for me." Now she got them hoity-toity ways, put that cute little nose in the air. (In falsetto) "Louis, this the way it gonna be!" (As before) And that's when I gotta take her down a peg. (Blustering) "Woman, don't you be giving me no shit now!" (As before) Mostly, though, we get along real good. I guess most ladies would have quit my ass long ago, but Lucille, she digs me. Don't bother me till I'm ready to bother. Use to call me on the road 'fore she fly out to see me, just to make sure I ain't got no chick in the sack. How 'bout that?
Tell you a story. We get married, Lucille goes out on the road with me and it's Christmas. Come back to the hotel after the show and there's a little tree right there in the room, all lit up like nothing you ever seen before. She done trimmed it and put on the lights for old Pops! Now I ain't never had no Christmas tree before. We couldn't afford nothing like that back in New Orleans. Then I go out in the world, hit the road, nobody ever thought to put up no tree for me in no hotel room—not until Lucille. I come in, see that tree in the corner, and she say, "Merry Christmas, Louis!" And you know what? I wouldn't let her turn it off. Lay in bed all night looking at them pretty lights winking and blinking, and I say to myself, "Satch, you done lucked out. Better do what you gotta do to hang onto that gal. You ain't gonna do no better long as you live."