This week's Wall Street Journal drama column is devoted in its entirety to Palm Beach Dramaworks' revival of My Old Lady. Here's an excerpt.
* * *
Israel Horovitz, who in the '60s and '70s was one of New York's most prolific and talked-about playwrights, is now better known in France, where more than 50 of his plays have been translated and produced, than in his native land. In "My Old Lady," first seen off Broadway in 2002 and now being performed with delicacy and grace by Palm Beach Dramaworks, he tacitly acknowledged this unjust state of affairs by writing a play set in Paris that he calls "a love letter thanking France for giving me my French life."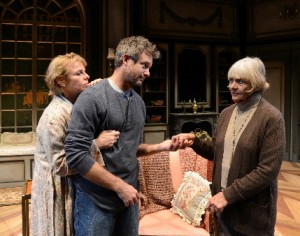 "My Old Lady" is a three-hander whose plot is set in motion by Mathias (Tim Altmeyer), a failed American novelist with a weakness for drink who inherits a luxurious but crumbling Paris apartment from his otherwise indifferent father. The apartment, as he learns when he travels to France to sell it, has been occupied for the past half-century by two iron-willed Frenchwomen who haven't the slightest intention of quitting the premises, a vinegary spinster named Chloé (Angelica Page) and her mother (Estelle Parsons), a worldly nonagenarian who is given to speaking her mind with alarming directness: "I'm 90. Subtlety is something that does not interest me." It emerges that Mathilde, Chloé's mother, was intimate with Mathias' father, and that Mathias and Chloé are both unhappy and unfulfilled.
Nothing especially surprising happens thereafter, any more than it does in a Mozart symphony. You know as soon as they meet that Mathias and Chloé will fall in love, and that Mathilde will do what she can to help them overcome the formidable conflicts of temperament that stand between them and the possibility of happiness. The magic of "My Old Lady" lies in the preternatural skill with which Mr. Horovitz propels his beautifully drawn characters toward what you trust will be their predestined fates….
The 87-year-old Ms. Parsons came to grief on Broadway last season in a poor play called "The Velocity of Autumn" that closed after 16 performances. Fortunately, that disaster did nothing to diminish her amazing energy and forcefulness. Watching her on stage in Florida, I couldn't help wishing that New York audiences could see how authoritative she still is. But "My Old Lady" is not a one-woman show, and this production wouldn't work nearly as well as it does were the other roles not so perfectly cast….
Though Mr. Horovitz recently turned "My Old Lady" into a film starring Kevin Kline and Maggie Smith, it's more effective onstage, and this production underlines the play's sadness without diluting the leavening touches of comedy that make it so satisfying….
* * *
Read the whole thing here.
The trailer for Israel Horovitz's 2014 film version of My Old Lady, starring Kevin Kline and Maggie Smith: