In today's Wall Street Journal I review a New Jersey show, Two River Theater Company's revival of Camelot. Here's an excerpt.
* * *
Does the old-fashioned Broadway musical have a future? If so, it may well be found in the scaled-down revivals of classic musicals that are currently being presented by smart theater companies across America. To see a show like Amanda Dehnert's school-of-Brecht 2013 Oregon Shakespeare Festival version of "My Fair Lady," or the radically reconceived single-set "Porgy and Bess" that Charles Newell directed at Chicago's Court Theatre in 2011, is to realize that given sufficient imagination, it's possible to do complete artistic justice to a golden-age musical in a small house without busting the budget. The latest example is David Lee's Two River Theater Company production of "Camelot." Not only is it the best "Camelot" I've seen, hands down, but Mr. Lee has succeeded in fixing the inherent flaws of a musical that, for all its popularity, has never quite worked.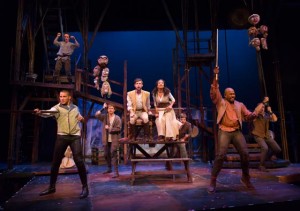 The problem with "Camelot," the Alan Jay Lerner-Frederick Loewe musical version of "The Once and Future King," T.H. White's 1958 novel about the legend of King Arthur, is that it's far too long and elaborate for its own good. Having turned the novel into a big theatrical machine with a cast of 30 that ran for four and a half hours in previews, the two men then hacked an hour and a half out of "Camelot," and kept chipping away after it opened in 1960. They ended up with a hit. But "Camelot" has never been successfully revived on Broadway, and I've always wondered whether it might in fact be an intimate music drama trapped inside an overblown stage spectacular.
Mr. Lee has evidently come to that conclusion, for his performing version of "Camelot," which runs for just two hours and 15 minutes, is played on a unit set by eight actors and eight musicians. The conceit is a familiar one—we're seeing "Camelot" done à la "Pippin" by a trunk-toting troupe of youthful strolling players—but Mr. Lee deploys it with immense originality, cutting Lerner's long-winded book to the bone and letting the songs tell the story. As a result, the spotlight of attention is tightly focused at all times on the ill-fated love triangle of Arthur (Oliver Thornton), Guenevere (Britney Coleman) and Lancelot (Nicholas Rodriguez)…
If you're going to strip a show like "Camelot" down to the bone, you'd better have a cast that's strong enough to make an impression without benefit of the lavish scenic trimmings that audiences expect. Ms. Coleman has got what it takes. It's been a long time since I've seen a young musical-theater performer with the star quality that she radiates….
* * *
Read the whole thing here.
The trailer for Camelot: