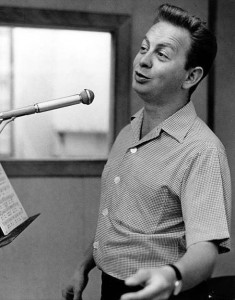 I have an essay about Mel Tormé in the new issue of Commentary. Here's an excerpt:
Greatly admired by his fans, he was never loved in the way Sinatra was loved in his lifetime, or the way Tony Bennett is loved today….

Some have speculated that Tormé's wide-ranging talents prevented him from focusing with single-minded determination on his career as a vocalist. Among other things, he was one of the few top-tier pop singers who wrote high-quality songs, the best remembered of which is "The Christmas Song" (better known to casual listeners as "Chestnuts Roasting on an Open Fire"). He also wrote several very good books, not only about himself but about other artists he had known. Moreover, Tormé did enough acting—most of it on series TV, on occasion in his own teleplays—to suggest that he could have had a successful career as a character actor. And in addition to all this, he was a talented arranger, a competent jazz drummer, and a more than serviceable pianist.

But for all his varied accomplishments, Tormé was a singer first and foremost, and his fellow singers knew his worth. Toward the end of his life, Bing Crosby was asked in an interview to name his favorite musicians, and the only vocalist he mentioned was Tormé: "Any singer that goes to hear this guy sing has got to go and cut his throat." What was it, then, that kept Tormé out of the pop-culture pantheon? Was his stylish singing caviar to the general? Or was something else at fault?…
Read the whole thing here.
* * *
Mel Tormé performs "I'll Remember April" in "The Frozen Image," a 1967 episode of Run for Your Life for which he also wrote the teleplay. He appears opposite Ben Gazarra, the star of the series: