After a long and unbroken string of too-bad-to-be-true incidents, Mrs. T and I arrived last Friday at the alarming conclusion that we were both in a Philadelphia. For those unfamiliar with the one-act plays of David Ives, a Philadelphia is a metaphysical black hole "inside of what we know as reality." When you fall into a Philadelphia, everything—but everything—goes wrong.
No, I don't want to talk about it. I'm too tired. The two of us only just started to crawl out of our Philadelphia on Saturday afternoon, just in time to drive to New Jersey (which is, of course, dangerously close to Philadelphia) to dine with an aunt and uncle and see the Shakespeare Theatre of New Jersey's production of I Capture the Castle. So in lieu of sharing the gory details, I'll post an excerpt from "The Philadelphia" that explains everything. Metaphysically speaking, that is.
* * *
AL: Because in a Philadelphia, no matter what you ask for, you can't get it. You ask for something, they're not gonna have it. You want to do something, it ain't gonna get done. You want to go somewhere, you can't get there from here.
MARK: Good God. So this is very serious.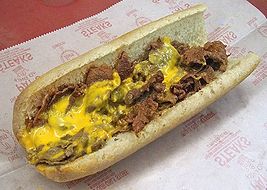 AL: Just remember, Marcus. This is a condition named for the town that invented the cheese steak. Something that nobody in his right mind would willingly ask for.
MARK: And I thought I was just having a very bad day….
AL: Sure. Millions of people have spent entire lifetimes inside a Philadelphia and never even knew it. Look at the city of Philadelphia itself. Hopelessly trapped forever inside a Philadelphia. And do they know it?
MARK: Well what can I do? Should I just kill myself now and get it over with?
AL: You try to kill yourself in a Philadelphia, you're only gonna get hurt, babe.
MARK: So what do I do?
AL: Best thing to do is wait it out. Someday the great cosmic train will whisk you outta the City of Brotherly Love and off to someplace happier.