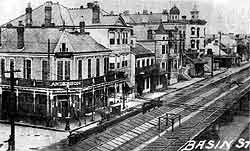 Today I'm headed for New Orleans, though my first event there, oddly enough, isn't a local one: I'll be talking about Pops: A Life of Louis Armstrong by phone from New Orleans with David Inge of Focus 580, broadcast live each morning over WILL-AM, the radio station of the University of Illinois at Urbana-Champaign. Tune to 580 on your AM dial to hear me live starting at 11:06 a.m. CT, or go here to listen on your computer via streaming audio.
For those of you who live in or near New Orleans, I'll be speaking about Pops at the Garden District Bookshop, 2727 Prytania Street, starting at 5:30 p.m. Go here for more details.
I have one more event in New Orleans on Friday morning: I'll be talking about Pops on WWL-TV, Channel 4, at 8:15 a.m. CT. After that I fly up to St. Louis, meet Mrs. T at the Amtrak station, and drive down to Smalltown, U.S.A., for the holidays. Yes, I plan to ease off on the blogging next week–I need a bit of rest–but there'll still be something new to amuse you every day in this space.
Just in case you're wondering, I'll be eating red beans and rice tonight!
UPDATE: Actually, I had them for lunch. Satchmo, who liked to sign his letters "Red Beans and Ricely Yours," would have been pleased.