Yes, I'm still carrying on my usual drama-related duties in between pitching my new book hither and yon, and in today's Wall Street Journal I review two new shows, the Liv Ullmann-Cate Blanchett revival of A Streetcar Named Desire and an off-Broadway revival of S.N. Behrman's Biography. Here's an excerpt.
* * *
Blanche DuBois, it seems, will always be with us. Like it or not–and I find myself liking it more and more as time goes by–Tennessee Williams' "A Streetcar Named Desire" is so true to life as to approach the archetypical in its hurtfully frank portrayal of the sufferings of a lonely woman of a certain age who has never been able to come to terms with the fleshly implications of her own sensuality. Such a role was surely made for Cate Blanchett to play, and now she's brought her own Sydney Theatre Company all the way to Brooklyn to show us her stuff. This is good news by definition, since Ms. Blanchett is not only one of the best actors in the world but is equally at home on screen and stage. I do wish, however, that she and Liv Ullmann, the director, had dug a little bit deeper. Except for the set, about which more later, they have given us a surprise-free staging of "Streetcar" that tells us nothing new about Williams' most frequently performed play.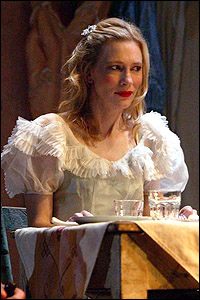 As it happens, this is the first "Streetcar" I've seen whose cast and production team are entirely foreign–Ms. Ullmann is Norwegian, everyone else Australian–and it occurred to me more than once that they were all bending over backwards to give us an idiomatically American "Streetcar," right down to the (mostly excellent) accents. The problem is that seasoned American theatergoers have seen the play and/or the movie many, many times, and don't really need to see it done again in yet another high-strung school-of-Elia-Kazan version. Ms. Blanchett is the chief offender: Her ultraflighty Blanche is so twitchy from the first scene onward that she has nowhere to go but straight into the stratosphere of overacting…
S.N. Behrman, one of the most successful playwrights of the '30s and '40s, never had another hit after "A Streetcar Named Desire" wrapped up its original New York run. His old-fashioned brand of high comedy was washed off the stage by Williams' poetic naturalism. Yet Behrman's early plays have lost none of their effectiveness, and "Biography," perhaps the finest boulevard comedy ever written by an American, has long been in need of a revival on Broadway, where it hasn't been seen since 1934. Some smart producer would thus do well to pay a visit to the Mint Theatre, the Off-Broadway house where Tracy Shayne is giving the performance of a lifetime as Marion Froude, a portrait painter with a past who decides to tell all–on paper….
* * *
Read the whole thing here.