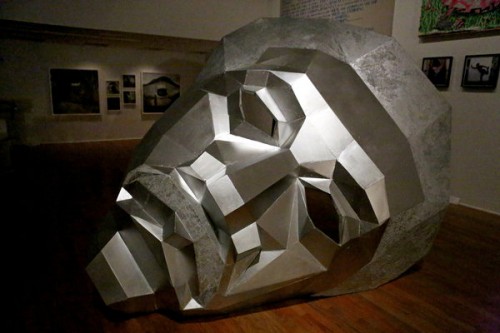 Derek Adams: We><Here
BLACK TO THE FUTURE……
Afrofuturism has been smoldering underground for awhile. The term was coined for African-American Si-Fi by critic Mark Derey in an essay called Black to the Future in 1994. In music, in the personage of Sun Ra, it existed before it was named, and it has a prehistory in science fiction too, in the work of Samuel Delany and Octavia Butler. And some now claim that Afrofuturism may go as far back as two works by Harlem Renaissance author George Schuyler.
Black No More (1931 ), which posits for purposes of satire a scientific way to turn black people white, and Black Empire (1936-38), an over-the-top revenge serial featuring a black Goldfinger — who, financed by robberies, successfully liberates Liberia, takes over Africa and perhaps the entire world through murder, aircraft, drugs and a fake religion. Black Empire was recommended to me by a black artist I know from Chicago. But author Schuyler became an arch conservative. He was even against Martin Luther King. And his two semi-sci-fi efforts are kind of nasty, which Afrofuturism is not.
But the good news is that at last, the visual-art expression of authentic Afrofuturism has emerged.
"The Shadows Took Shape" is at the The Studio Museum in Harlem, to March, 2014. A display case of Sun Ra relics honors the jazz-giant pioneer of Afrofuturism, as does the official title of the show, which is a line from one of his poems. Yes, Sun Ra wrote poems, some of them even published by Amiri Baraka, when he was LeRoi Jones.
There is a land
Whose being is almost unimaginable to the
Human mind.
On a clear day,
We stand there and look farther than the
ordinary eye can see.
Far above the roof of the world,
We can encompass vistas of the worlds.
There is a land
Where the sun shines eternally . . .
Eternally eternal:
Out in outer space
A living blazing fire,
So vital and alive . . .
There is no need to describe its splendor.
What Is It? 
A diagram of Afrofuturism would be complex indeed. Afrofuturism is thoroughly cross-media in a way that has not really occurred since Futurism and Dada. There was Surrealist painting and literature, but no Surrealist music. There was Constructivist design and architecture but no Constructivist music and not really much literature. Afrofuturism embraces music, poetry, art and science fiction.
Is Afrofuturism an art movement or a sociological phenomenon? Both.
The possible kink in my glib response is that art movements usually are defined by stylistic or formal traits. Solution: Dada had no formal code and is nevertheless considered an art movement, and an important one at that. Instead of formal definers, it had a strategy, which was to turn everything in art on its head. And, in so far, as it was a response to the First World War, it was also a sociological phenomenon.
Is Afrofuturism global?
The sacred movements of modernism were more or less international, way back then meaning mostly European. We might posit Abstract Expressionism as global, but only if we see AE and Action Painting as the same thing as Tachism in Europe and Japan (which I increasingly do). Even so, this is a stretch.
I once wrote (1971) that Conceptual Art was the first truly global art movement, and I stand by that. Cubism traveled, but morphed into Futurism in Italy, Constructivism in the USSR. But Conceptual Art emerged almost simultaneously across the globe, in a way that Cubism, Constructivism, Pop Art and Minimal Art had not. This was not because Conceptual Art was better. It was just faster. Art media itself had suddenly become global. The whole world seemed to be reading the same art magazines. It also helped that Conceptual Art was readymade for media transport and instant communication, as is Afrofuturism now. Afrofuturism is about media and uses media. It rides on the wings of music and science fiction.
Afrofuturism even includes Africa, which was not the case with Conceptual Art. "The Shadows Took Shape" at the Studio Museum is a sampling of art by African artists and artists of African descent living in the Americas, Asia and Europe — persons of the African diaspora. Afrofuturists are inserting blacks into the future, where in the past they have been pretty much ignored.
What I find moving is that Afrofuturism is powered by exile, displacement, invisibility and erasure — and the emotions these cause. But it can also include reclamation and invention of the past. It can be joyful and playful as well as anxious, angry and awe-inspiring. It stakes a claim on the future.
Afrofuturism makes use of myth. Afrofuturism, since it is happening now and not in 1913, has to be about mass media and technology. One spectacular piece here is a blow-up of the Wizard's cubistic mask from The Wiz, which as a movie and a broadway musical is the black version of the Wizard of Oz. Another is a wooden model of the spaceship Enterprise, titled yawar mallku, made by William Cordova, in collaboration with Nyeema Morgan and Olabdnga Jones and Associates.
Other works I particularly liked:
Wayne Hodge's photo-collages…
Cyrus Kabiru's C-Stunner "funkadelic" eyewear made from scrap metal from the streets of Nairobi…
Christina de Middel's Afronauts photos, recreating a Zambian schoolteacher's 1964 proposal for an African space program…
 And David Huffman's MLK, a painting showing black astronauts carrying the coffin of Martin Luther King…
Why do you need to know about Afrofuturism? I don't think Afrofuturism is post-black, but it is certainly post-Postmodernism. It is Social Art with a global sting. Make way for the future.
Language play and humor is part of the Afrofuturism tool kit, but if you step back, the darkness and despair is unbearable. The Afrofuturist escape to the future, whether folkloric, artistic or mythic, should tell us something. As strange as it may seem, a malady can be discovered through and even defined by its antidote.
 The Patron Saint of Afrofuturism 
Jazz giant Sun Ra is the patron saint of Afrofuturism. He ruled over his far-out band Arkestra for 40 years, creating almost 200 albums. Anyone who can do that can't be insane, said one psychiatrist when asked for his opinion. Why would anyone seek a psychiatric opinion?
Sun Ra insisted, with a straight face, that he had not been born on Earth. He came from Saturn; he was on a rescue mission. His "slave name" was Herman Poole Blount  (1914-1937), but he became Sun Ra (c.1937-1993). He had a vision.
My whole body changed into something else. I could see through myself. And I went up … I wasn't in human form … I landed on a planet that I identified as Saturn … they teleported me … They talked to me … the world was going into complete chaos … I would speak [through music], and the world would listen. That's what they told me.
Sun Ra came to earth to use music to transport blacks to a new planet, for a new start. Whether he was a UFO abductee, a visitor from Saturn or an angel is irrelevant. He was on message for the rest of his life.
In the arch but curiously moving prologue to his 1971 movie Space Is the Place, Sun Ra explains his vision:
The music is different here. The vibrations are different. Not like Planet Earth. Planet Earth sounds of guns, anger, frustration.There will be no one from Planet Earth we could talk to who would understand. We'll set up a colony for black people here. See what they can do on a planet all their own, without any white people there. They would drink in the beauty of this planet. It would affect their vibrations, for the better, of course. Another place in the universe, up in the different stars. That would be where the alter-destiny would come in. Equation-wise – the first thing to do is to consider time as officially ended. We'll work on the other side of time. We'll bring them here through either isotopicteleportation, transmolecularization of better still, teleport the whole planet through music.
After Sun Ra moved from Chicago to the Big Apple, his Arkestra commandeered  Monday nights at Slug's Saloon in the northern part of the Lower Eastside, just as it was turning into the East Village. Albums he did for  ESP Records hit the charts. By 1969, he was on the cover of Rolling Stone. He toured America and Europe. He and his Arkestra  "family" even visited Egypt, the romanticized black homeland.
Certainly he was a showman — those  space-age costumes, those five-hour concerts with dancers, his "girl singer" June Tyson chanting Sun Ra proverbs ("You made a mistake. You did something wrong. Make another mistake, and do something right!").
But he was also a mystic, Cabbalist and a poet.
Sun Ra proposed Africans and those of the African diaspora were, like himself,  extraterrestrials or stranded angels.
In the cult movie Space Is the Place, dressed up as a chubby, dime-store Egyptian king, here is what Sun Ra says to two black youths in an Oakland pool room:
I'm not real, I'm just like you. You don't exist in this society. If you did, your people wouldn't be seeking equal rights. You're not real. If you were, you'd have some status among the nations of the world. So we're both myths. I do not come to you as a reality, I come to you as a myth. because that's what black people are, myths. I come to you from a dream that the black man dreamed long ago.
But here's the irony: Sun Ra and his Arkestra achieved their greatest popularity through rock concerts, which had mostly white audiences, and with the urban, white-hipster intelligentsia.
 Catching Up With Sun Ra 
"Open your ears so that you can see with the eye of the mind."
      — Statement accompanying the first Sun Ra recording, 1956
Get ready, world. His Chicago broadsides and Lower East Side poems are now in print, and I have already read one insightful Master's thesis on Sun Ra as a writer.You can read My Music Is Words — the Poetics of Sun Ra by Nathaniel Earl Bowles by clicking HERE.
You can see a BBC documentary HERE.
And now is the time to look at Sun Ra's 1972  Space Is the Place. HERE  It is a movie beyond belief: Blaxploitation sci-fi, a fascinating but crudely made advertisement for leaving the Earth before it is too late. No, there is not enough music. Yes, it has Egyptian headdresses and clichéd urban youths in Oakland, but it also has nonlinear, jaw-dropping mystic pronouncements, naked ladies, at least one pimp and magic entrances and exits. And, a very weird spaceship.
Alas, Ra's charisma is not much in evidence. If you want Sun Ra charisma, check out this YouTube clip of the Man From Saturn playing an electronic organ HERE.
You can catch up on Sun Ra sounds on YouTube, too. But be prepared. He is doing weird and original things with transitions, chord progressions, jazz references and, I think, time .My favorite is still Sun Ra: Heliocentric Worlds I (1969).  HERE.
Strangest? Strange Strings! And on that album "Door Squeak" will drive you up the wall. HERE
You can hear him read his strange and moving poem "Like A Universe"  HERE
 And hear him sing Why Was I Born (1988)  HERE
The Pandora Effect
Pandora is a cellphone/computer music service that allows you to choose any number of "channels." Mine range from Bach, Bieber and Heinrich Schütz to Coltrane. But then they think they are doing you a favor by adding "variety" according to characteristics of the music you have chosen. Sarah Vaughan will segue into the unctuous Bing Crosby. Even Bach morphs into long strings of lesser Baroque.
If you want a demonstration of Sun Ra, the unique and one and only, try Pandora's    Sun Ra Radio channel. You will get some great Sun Ra and then some splendid music by Coltrane, Miles Davis, Max Roach. But Sun Ra is so different, it is mind-boggling. He was right. His music is not quite bop, and not quite free jazz, which we know he influenced. His music is cosmic.
I'm actually painting pictures of infinity with my music, and that's why a lot of people can't understand it. But if they listen to this and to other types of music, they'll find that mine has something else in it, something from another world.
                                                                                                                                      — Album text, Outer Spaceways Incorporated, 1971
 Sun Ra's poem The Immeasurable Equation (1972) is an example of his cultural debt to both Christianity and more esoteric spiritual practices:
The word that was made flesh was made fresh
It is the new, the new test … the new tester, the test-testertestament
The testament new
Words, words, words
Made fresh, made again
The recreate, the recreation . . .
The word was made fresh
Thus is the cosmic reach
Dark meanings brought to light
See the mystery
Hear the sound duplicity
The double opposite parallel
Hear the sound duplicity
The double opposite parallel.
John Perreault is on Facebook. Links here for John Perreault website & John Perreault's art.