And the Winners Are…..
As much as I dislike end-of-the-year, best-of lists or awards of any kind (unless I am on the receiving end), the temptations are hard to resist: praising, hackle-raising, poisoning, and positioning. So for the first time ever, here we have the Artopia Awards for 2006.
Best Solo in a Museum: Douglas Gordon at MoMA
Too old to be emerging and too young for a retrospective, Gordon was just perfect for MoMA, badly in need of at least some inkling of the avant-garde. Gordon's 24 Hour Psycho film projection is still breathtaking. One question: if you show at Gagosian, as Gordon does, are you still cutting-edge? Might be possible. Robert Smithson created his Spiral Jetty when he was showing with Virginia Dwan, although the parallel is far from exact.
Best Design Exhibition: Andrea Zittel: from A – Z at the New Museum. Or is her clothing, seating, and housing all really art?



Biggest Design Disappointment: Droog at the Museum of Arts and Design.
The key works of this celebrated Dutch design group look better in isolation than all together, no matter how cleverly displayed. In some high-end store, they jump out at you in opposition to standard product. Droog works best in real life, not in a museum context. Some design objects work only in museums. What does this mean?
Best Museum Retrospective of a Painter: Brice Marden at MoMA.
Not a can of worms (which is what one evil artist called the squiggle paintings); not the end of painting. Perfectly selected by curator Gary Garrels.



Best Mid-Career Museum Survey of a Sculptor: Kiki Smith: A Gathering .
At the Whitney, but initiated by Walker Art Center, Minneapolis. Could have been scarier, but still a triumph of inspiration and nerve.


Best Use of Craft Materials: Kiki Smith
Best Use of Glass: Kiki Smith
Best Museum Exhibition of a Deceased Artist: Eva Hesse at the Jewish Museum
Brief, all too brief. In only a few years, Hesse provided precedence for much of what was to follow.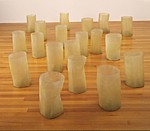 Most Photogenic Museum Addition: Libeskind's Denver Art Museum.
I was disappointed by his Holocaust Museum in Berlin, which also made good pictures, so I'll wait until I actually walk around and inside the Denver building. I have been fooled before. On the basis of photographs and the architect's pontifications, I hated Peter Eisenmann's Wexner Art Center in Columbus — until I actually visited.
Biggest Hype: ArtBasel Miami Beach
Do we really need to go to Miami Beach to shop for art? In the company of collectors from Palm Beach and Des Moines? Plus, in terms of emerging artists, we can see enough bad art right here in Chelsea.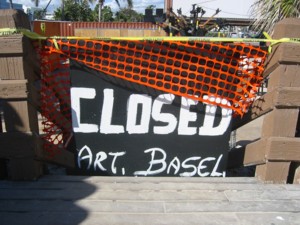 Best New Artist: Aaron Young
…at Positions at ArtBasel Miami Beach.
Best New Poet: David Daniels
The 73-year-old master of techknopaegnia (the shaped-poem), author of
The Gates of Paradise, is not the counter-tenor.
Best Art Book: A tie between Friedland and Zellman's The Fellowship: The Untold Story of Frank Lloyd Wright and the Taliesin Fellowship and Henry Adams' Eakins Revealed.
Biography must be brave, as here. After you read The Fellowship you will never be able to look at a Wright building in quite the same way. After the Eakins biography you will really understand why the artist got into all that trouble.



Best Contribution to Gay History: The Fellowship and Eakins Revealed.
Wright was not gay, but wife Olivanna encouraged male-male hanky-panky. Eakins ate out every night with the same muscled fellow.
Best Contribution to Mysticism and Art: The Fellowship.
Thanks to high-ranking Gurdjieff disciple Olivanna, Gurdjieff himself barreled through.
Best Biography of an Art Dealer: Lindsay Pollock's The Girl With the Gallery: Edith Gregor Halpert and the Making of the Modern Art Market.
Edith Halpert founded the pioneering Downtown Gallery in Greenwich Village, and art and art marketing were never the same. She even seems to have been the first to peddle shows of her artists to museums around the country. That Halpert became a major diva (without wearing Prada), and in her later years became paranoid to boot, is a warning to all art dealers.
Best Museum Installation: L. A. Noir.
Designed by the Servo Collective at the Santa Monica Museum of Art; Joshua Dechter, curator. A tentacled monster with video monitors at the end of each stalk, in the dark.
Best Museum Eats: Café Sabarsky at the Neue Galerie
The strudel is better than any overpriced Klimt.
Worst Placement of Elevators in a Museum: MoMA
We know why department stores hide their elevators — to force everyone to take the escalators, thus showing off each floor's merchandise. But here the merchandise is on the first floor with a small outlet on the sixth, so it doesn't make any sense.
Best Expansion News
The Whitney will build a branch on the High Line elevated park at the Meatpacking District end point, and leave its Breuer Building — and its sensitive townhouse neighbors — alone.