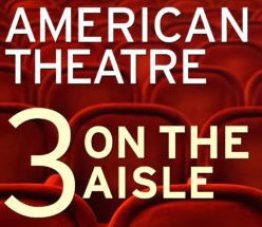 I've been so horrifically busy throughout the past couple of weeks that I forgot to mention that the twenty-ninth episode of Three on the Aisle, the twice-monthly podcast in which Peter Marks, Elisabeth Vincentelli, and I talk about theater in America, is now available on line for listening or downloading.
This episode consists of just the three of us, talking about what we've seen and thought of late. Here's an excerpt from American Theatre's "official" summary of the proceedings. "They" is "us":
They start this week talking all things Lear, namely the revival currently playing on Broadway starring Glenda Jackson as the embittered monarch. They talk about where the production succeeded, where it failed—and why they're all sick of the play. They then perform a bittersweet postmortem on The Band's Visit, which recently closed. Then they go into their mailbag to talk about playwrights getting billing above their own work, when it's okay to read the book of a play you're reviewing, and the origins of 3OTA.

Finally, they go around the table to talk about Mrs. Murray's Menagerie from the Mad Ones at Ars Nova, Life Sucks by Aaron Posner, and Irish Rep's revival of Juno and the Paycock.
To listen to or download this episode, read more about it, or subscribe to Three on the Aisle, go here.
In case you've missed any previous episodes, you'll find them all here.