In today's
Wall Street Review
I review the world premiere of
Norma Jeane Baker of Troy
, the first theatrical presentation of The Shed, New York's new arts center. Here's an excerpt.
* * *
The Kenneth C. Griffin Theater, the most conventional of The Shed's performance spaces, is a nondescript-looking 500-seat multipurpose black-box theater on the sixth floor that can be set up and subdivided in an infinite number of ways. While such auditoriums are common enough nowadays—most colleges have one—they're harder to find in midtown Manhattan, which is dominated by Broadway's traditional proscenium-arch theaters. Whether this one will have any impact on the culture of theater in Manhattan, though, will likely depend more on what the Griffin Theater presents than how it's presented. Judging by its inaugural offering, I'm skeptical in the extreme, for "Norma Jeane Baker of Troy" is an embarrassment, a show that I would never have considered reviewing had its premiere been given under any other circumstances.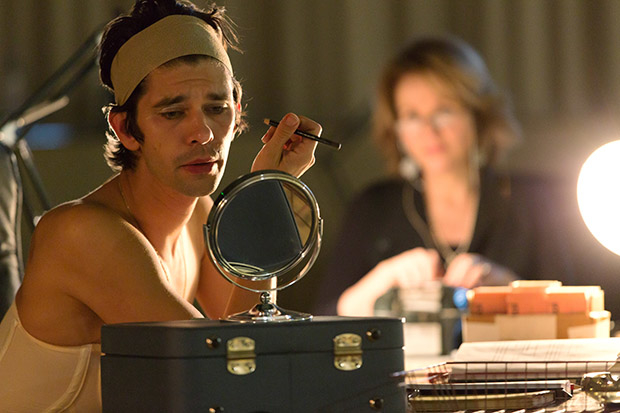 As the title indicates, "Norma Jeane Baker of Troy" is a mash-up, a verse play by Anne Carson loosely based on Euripides' "Helen" in which the lives of Helen of Troy and Marilyn Monroe are compressed into a single narrative, one in which Arthur Miller, Truman Capote, Fritz Lang and Pearl Bailey also play prominent roles. The results occasionally reminded me of "The Mother of Us All," Gertrude Stein's 1947 opera about the life of Susan B. Anthony, in which historical fact is interwoven with fey fantasy: "Enter Norma Jean as Mr. Truman Capote./First choral song./Enter chorus./I am my own chorus." Mostly, though, "Norma Jeane Baker of Troy" is a bore, for Ms. Carson's "verse" is flat-footed, clunkily colloquial and—needless to say—very political: "HISTORY OF WAR: LESSON 6/In war, things go wrong. Blame Woman."
"The Mother of Us All" works, of course, because Virgil Thomson, Stein's collaborator, set it to a droll musical score full of deadpan parodies of what he affectionately described as "gospel hymns, darn-fool ditties, inspirational oratory and parades." Not so "Norma Jeane Baker of Troy," which has been turned by Paul Clark into a humorless two-person "melologue," a 90-minute-long play-with-singing. His score, a wall-to-wall carpet of synthesized drones and sound effects that could have been lifted from a '70s happening, is wholly anonymous-sounding. Ben Whishaw, lately of "Mary Poppins Returns," and Renée Fleming, who needs no introduction, play…well, I'm not sure who they play. At first he seems to be a screenwriter and she his mousy secretary, which might possibly make him Mr. Miller, but in due course Mr. Whishaw dons drag and becomes Mrs. Miller….
* * *
Read the whole thing
here
.