In today's
Wall Street Journal
I review the new Broadway revival of
Frankie and Johnny in the Clair de Lune
and a Pennsylvania production of
Dial "M" for Murder.
Here's an excerpt.
* * *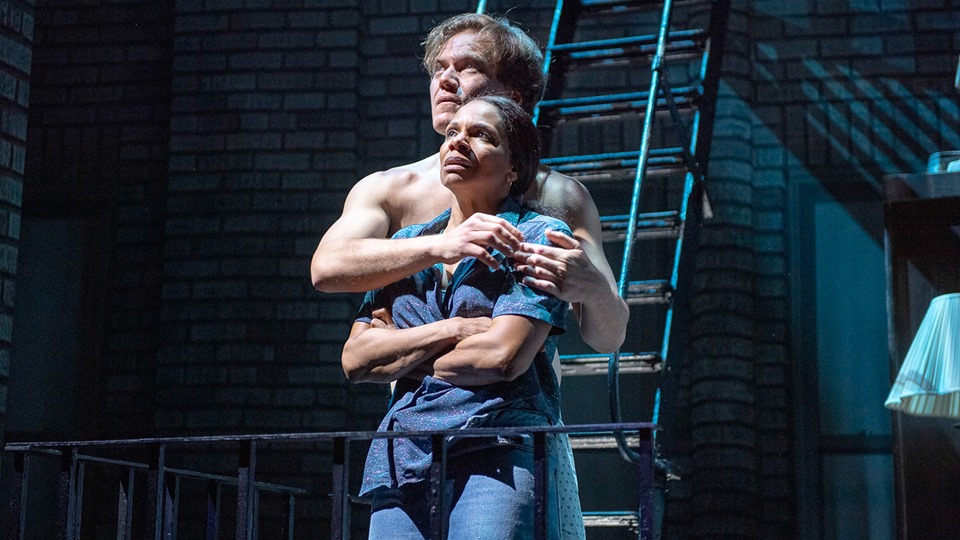 It's been a quarter-century since Audra McDonald's unforgettable performance as Carrie in Nicholas Hytner's Lincoln Center Theater production of "Carousel" made her famous. At 48, Ms. McDonald is now clearly and wisely inclined to move on from such standard musical-comedy roles, and she is in any case as outstanding an actor as she is a singer. So it makes sense that she should be returning to Broadway for the first time in three years in a straight play of which she is the incontestable star. What's more, Ms. McDonald's performance in the newly opened Broadway revival of "Frankie and Johnny in the Clair de Lune," Terrence McNally's 1987 romcom about a steamy one-night stand that blossoms into love, is a very fine piece of work—albeit one in which she has been cast sharply against type.
The problem is that Ms. McDonald is called upon to play a working-class waitress who, according to the script, is a woman of "striking but not conventional good looks" with a "fairly tough exterior." Ms. McDonald, by contrast, is an exceptionally beautiful woman with a cultivated speaking voice who couldn't have less in common with a character created by Kathy Bates and previously played on Broadway by Edie Falco…
As for Mr. McNally's play, it's a sugar-sweet fantasy, the most blatantly commercial thing he's ever written…
Frederick Knott wrote three popular plays, all of them mysteries, a genre that migrated long ago from Broadway to the small screen. Two of them, "Dial 'M' for Murder" (1952) and "Wait Until Dark" (1966), were box-office smashes that were filmed just as effectively, enough so that Knott gave up writing after "Wait Until Dark" and spent the rest of his life (he died in 2002) living comfortably off his royalties.
While neither play has yet to be successfully revived on Broadway, they both continue to be performed by amateurs and regional companies, and I've long been curious to see whether they still work onstage. To that end, I drove out to Pennsylvania's Bucks County Playhouse to see that excellent company's version of "Dial 'M' for Murder," and am delighted to report that Knott's best-remembered play is still tremendous fun, a thriller so tautly and meticulously plotted that the audience at the matinée I saw didn't make a sound (except for startled gasps at all the right moments)….
* * *
To read my review of
Frankie and Johnny in the Clair de Lune
, go
here
. To read my review of
Dial "M" for Murder
, go
here
.
Excerpts from the Broadway revival of Frankie and Johnny in the Clair de Lune:
The original theatrical trailer for Alfred Hitchcock's screen version of Dial "M" for Murder: