In today's
Wall Street Journal
I review two important musical revivals,
Oklahoma!
on Broadway and
The Cradle Will Rock
off Broadway. Here's an excerpt.
* * *
Never have I seen a revival of a classic musical that tipped its conceptual hand faster than Daniel Fish's "Oklahoma!" No sooner do you walk into the theater than you notice that the playing area is full of trestle tables covered with Crock-Pots, and that the walls of the theater are all covered with rifles. From this you can safely assume that you're about to see a modern-dress "Oklahoma!" rather than one set, as Richard Rodgers and Oscar Hammerstein II intended, in 1906, and that Mr. Fish will be giving us a similarly contemporary take on the show, one in which Hammerstein's large-spirited, all-American optimism is dismissed with contemptuous irony as a tool of the patriarchy at its most violently oppressive.
Let's get down to particulars. Not only do Curly (Damon Daunno) and Laurie (Rebecca Naomi Jones) have no romantic chemistry—I assume they aren't meant to—but the finale ends not with an explosion of joy but in a pool of spilled blood. The staging is static, the casting is maximally non-traditional and the book is politically corrected (Ali Hakim, the Persian peddler, has been deracinated). The men are thick-headed, loutish clods save for Jud (Patrick Vaill), the psychopathic farmhand. Indeed, Jud is the only one who is portrayed as sympathetic, which tells you all you need to know about this "Oklahoma!"…
Is there anything good about this production? Absolutely. For openers, Ali Stroker, who uses a wheelchair, is the sexiest Ado Annie I've ever seen….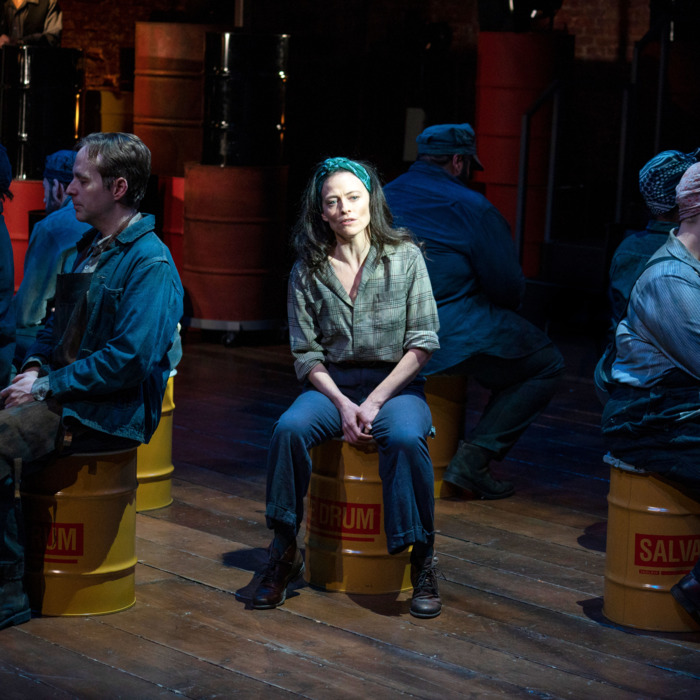 Theatrical politics being what they are, it was both inevitable that "The Cradle Will Rock," Marc Blitzstein's 1937 pro-labor musical, would receive a major off-Broadway production in the Age of Trump, and desirable that it is being done by Classic Stage Company. John Doyle, CSC's artistic director, is exceptionally good at staging small-scale musical revivals, and he knows exactly what to do with shows like this: His "Cradle" is performed by a 10-person cast, acted on a dirt-simple set of his own design and accompanied, as was Orson Welles' now-legendary Broadway production, by an upright piano that is played in turn (and very well, too) by four members of the cast. The results are spare, vital, perfectly legible and almost entirely satisfying.
I do have a caveat, and it is, alas, a substantial one: This production is sung without amplification, and Mr. Doyle has cast actors who can sing rather than singers who can act….
* * *
Read the whole thing
here
.
Ali Stroker sings "I Cain't Say No" on The Jimmy Fallon Show:
A featurette about rehearsals for The Cradle Will Rock: