In today's Wall Street Journal "Sightings" column, I write about A Life in Movies and Million-Dollar Movie, the two-volume autobiography of Michael Powell, one of the greatest filmmakers of the twentieth century. Here's an excerpt.
* * *
Anyone can write an autobiography, and it sometimes seems that most people do. But the ability to write an autobiography with bonafide literary merit—one that can be read for aesthetic pleasure alone—is usually limited to professional writers.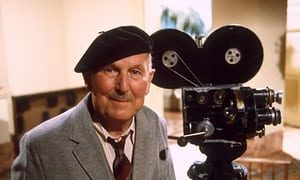 Miracles do happen, though, and anyone who's had the pleasure of reading (to cite two of my favorite examples) Ulysses S. Grant's "Personal Memoirs" and Alec Guinness' "Blessings in Disguise" knows that you needn't be a pro to write stylishly. "A Life in Movies" (1986) and "Million-Dollar Movie" (1992), Michael Powell's reminiscences of his young years and later life as a British film director, prove the same point. Almost entirely unknown in this country, these two books were recently drawn to my attention by a film critic. (While both are out of print, used copies are easy to obtain.) Taken together, they constitute what just might be the best autobiography ever published by a working artist of significance who wasn't a wordsmith by trade….
Don't be embarrassed if Powell's name is unfamiliar to you. "The Life and Death of Colonel Blimp" (1943), "I Know Where I'm Going!" (1945), "Black Narcissus" (1947) and "The Red Shoes" (1948), the films for which he is best known, didn't attract wide attention when they were originally released in the U.S., and for many years they were unavailable for screening. It was only when the Criterion Collection brought them out on home video that Powell and his professional partner, the screenwriter Emeric Pressburger, came to be widely regarded as filmmakers of the first rank, a judgment shared in high places. ("Colonel Blimp," for instance, is David Mamet's favorite movie.) Even now, they are not nearly so well known as their Hollywood-based contemporaries, in particular Alfred Hitchcock, who did not become a household name until he immigrated to the U.S. in 1940. Powell, by contrast, never wanted to work in Hollywood, for he saw himself as a wholly English artist and coveted his creative independence. "My art was a proud art, and I still believe in the art of the impossible," he wrote in "Million-Dollar Movie." So he steered clear of Hollywood, ran out of money, and made no feature films between 1969 and his death in 1990.
It is, to be sure, a sad story, but there is nothing remotely sad about "A Life in Movies" and "Million-Dollar Movie," in which Powell recounts his tales of triumph and disaster in the manner of a man who embraced the whole of life, good and bad alike, with unquenchable enthusiasm….
* * *
Read the whole thing here.
From 1986, an episode of The South Bank Show devoted entirely to the life and work of Michael Powell. It was rebroadcast by ITV after his death in 1990:
A scene from The Life and Death of Colonel Blimp, directed by Michael Powell, written by Emeric Pressburger, and starring Roger Livesey, Anton Walbrook, and Deborah Kerr: