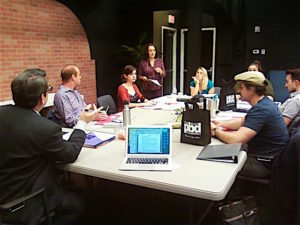 I spent much of Tuesday sitting in an upstairs studio at Palm Beach Dramaworks, rehearsing Billy and Me, my second play, which opens there on December 8. The plan was simply to read through the play from start to finish, but we ended up taking a searching look at the second act, as a result of which I went straight home after rehearsal and spent the evening doing rewrites.
These weren't the kind of scared-to-death rewrites that you do when it's obvious to everyone in the room that a show simply isn't working. They were aimed at taking an act that was already strong and making it smoother and clearer. I know this because the half-dozen new speeches that I wrote last night gushed out of me like water from a fire hose. Pretty much the same thing happened at the first rehearsal of Shakespeare & Company's 2012 production of Satchmo at the Waldorf, at which Gordon Edelstein and John Douglas Thompson cheerfully informed me that they both thought I ought to write a new character, Miles Davis, into the show, preferably that same night. I gulped a couple of times, then went home, rolled up my sleeves, set to work, and showed up at the rehearsal hall the following morning with the job all done. That's more or less how things went yesterday.
Bill Hayes, the artistic director of Palm Beach Dramaworks and the director of Billy and Me, and Nicholas Richberg and Tom Wahl, who are playing the parts of Tennessee Williams and William Inge, are friends and colleagues of long standing, so it was no surprise that the four of us got along so famously. What made me even happier was that I made the acquaintance yesterday of Cliff Burgess, who is playing three smaller parts, and Debi Marcucci, Katie Pyne, and Stefanie Anarumo, the stage manager, assistant stage manager, and assistant to the director, all of whom were new to me. I can already tell that Cliff, the newest member of the cast, is going to do a terrific job. As for Debi, Katie, and Stefanie, I love working with women—virtually all of my best friends are women—and I knew within seconds of saying hello to them that Bill had put together a fabulous team.
I figure we'll probably start off today's rehearsal by reading the new speeches that I wrote last night and discovering how they sound when spoken out loud by first-class actors. I'm sure I'll be doing a certain amount of topping and tailing after that, but I already feel good about our first day's work.