In my latest "Sightings" column, which appears in the online edition of today's Wall Street Journal, I pay tribute to the American Film Theatre, twelve of whose original releases are now playing at a New York revival house. Here's an excerpt.
* * *
Broadway and Hollywood have always had an uneasy long-distance relationship. From "The Front Page" to "Six Degrees of Separation," most of the biggest stage hits of the 20th century have been adapted for the screen at one time or another—but far too many were mangled beyond recognition in the process. Among other notorious crimes against good taste, studio executives insisted on tacking happy endings onto Thornton Wilder's "Our Town" and Tennessee Williams' "The Glass Menagerie," which is sort of like making a Lincoln biopic in which he doesn't get shot.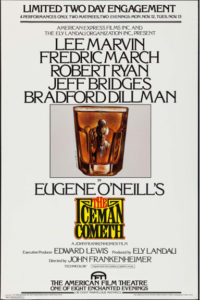 It was in response to such outrages that Ely and Edie Landau launched the American Film Theatre. Starting in 1973, the Landaus released low-budget, high-quality screen versions of 14 important stage plays and musicals, all of them scrupulously faithful to the original scripts. The films featured big-name stars like Katharine Hepburn, Glenda Jackson and Laurence Olivier and top-tier directors like Arthur Hiller and Tony Richardson, all of whom agreed to work for chump change in return for the chance to be associated with such elevated fare. The films, which included Edward Albee's "A Delicate Balance," Anton Chekhov's "Three Sisters," Bertolt Brecht's "Galileo" and Harold Pinter's "The Homecoming," were then shown in 500-odd U.S. movie houses on a limited-run subscription-only basis, complete with fancy "Cinebill" souvenir programs.
So noble a venture was, needless to say, doomed to failure: The American Film Theatre went bust in 1975. Not until 2003 did its releases finally make it to home video, and even now they are known for the most part only to theater buffs with very long memories. That's why it's such good news that 12 of the AFT's films are playing through Nov. 21 at New York's Quad Cinema. For the first time in years, these remarkable films can now be viewed in a movie theater, the way they were meant to be seen.
The AFT made its debut with a four-hour version of Eugene O'Neill's "The Iceman Cometh" directed by John Frankenheimer and starring Lee Marvin, Robert Ryan, Fredric March and an up-and-coming youngster by the name of Jeff Bridges. Marvin, who had been propelled into name-above-the-title stardom by "Cat Ballou" and "The Dirty Dozen," accepted a flat fee of $25,000, a tenth of his usual salary…
* * *
Read the whole thing here.
The original theatrical trailer for The Iceman Cometh:
The original theatrical trailer for Rhinoceros: