I flew down to West Palm Beach two weeks ago, and we've been rehearsing Billy and Me, my new play, ever since. During that time I also wrote a Wall Street Journal column, taped the third episode of Three on the Aisle, bid on a Morandi etching, saw a play and a ballet, and pretended to watch a couple of movies on TV. I haven't done anything else of consequence since I came to town, though, nor have I wanted to. Of the ten books I brought with me to Florida, I've finished reading one. I did eat breakfast last Thursday with an old friend, Whit Stillman, who was passing though town, but I doubt that I've spoken more than a couple of sentences out loud to anyone else who wasn't involved with Billy and Me in some way or other. If it weren't for Twitter, Facebook, and my nightly calls to Mrs. T, who is up in Connecticut, I'd be completely cut off from the outside world.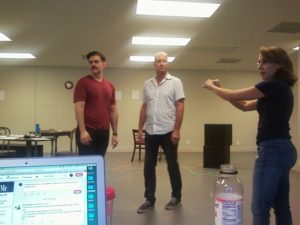 I've worked on enough shows by now to be familiar with the all-consuming experience of rehearsing, yet its disorienting nature still comes as a surprise each time it happens. To join the Society of People Putting on a Show is to withdraw into what Lila Neugebauer, the stage director who'll be the guest on the next "Three on the Aisle," calls a "temporary community." Each day I spend six hours sitting with the same small group of people in Palm Beach Dramaworks' rehearsal hall. Throughout that time, our sole concern is getting Billy and Me ready to put on stage. We don't think about anything else, or anyone else. On occasion we're joined by a specialist—Michelle Petrucci, for instance, dropped by to spend two hours choreographing a short dance scene, and we spent two ear-opening days with Ben Furey, the New York dialect coach who helped Nick Richberg and Tom Wahl, who are playing Tennessee Williams and William Inge, home in on their characters' regional accents—but otherwise it's just us.
That kind of concentration is exhausting, and it doesn't end when the day's work is done. More often than not, I grab a quick bite to eat, sometimes with a colleague but usually alone, then drive back to the company condo where I'm staying and spend a couple of hours working on the script before falling into bed. Billy and Me was in good shape when I got here, but certain things about a play can only be learned by hearing and seeing it. Having learned them, I've been making changes to the script every day, most of them minor (though not trivial!) but some very significant.
Among other things, I've written three new monologues and made major revisions to three other key scenes, working closely with Bill Hayes, the director, and Nick, Tom, and Cliff Burgess, our three-man cast. I actually wrote one of the new speeches while Bill and Nick were rehearsing its predecessor. As soon as they were finished, I showed them the speech, Nick sight-read it, and Bill put it into the script without changing a word.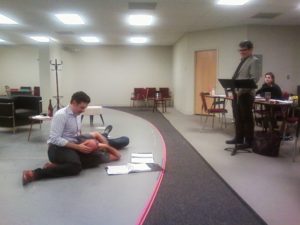 I hasten to add that our hard work is often great fun. We spend a lot of time laughing, and on occasion we get a little punchy from our labors and start laughing uncontrollably at everything that everybody says and does. When that happens, Debi Marcucci, our stage manager and assistant director, suggests to Bill that it might be a good time to take a break. Billy and Me has its first public preview in two and a half weeks, and just because things are going well doesn't mean we don't have plenty more to do between now and then.
Part of the pleasure of working on a play arises from getting to know the members of your temporary community. Bill and I had already collaborated on Palm Beach Dramaworks' 2016 production of Satchmo at the Waldorf, which I directed, and Nick and Tom workshopped Billy and Me with us, but most of the other people involved in the show are new to me. I like them all enormously—I've already made a good friend—and I look forward to coming to work each morning.
At the same time, I find the intensity of the process draining, which is why Bill and I went out of our way last Friday to see Miami City Ballet perform Jewels, George Balanchine's plotless dance triptych, at West Palm Beach's Kravis Center. I can't remember when I last saw Jewels, a masterpiece that I know well and love with all my heart, especially "Emeralds," the first panel, which is set to the music of Gabriel Fauré, a composer whose work has deep personal meaning for me. My hope was that spending an evening immersed in a different artistic world would recharge my spiritual batteries, and I was right.
Seeing "Emeralds" inspired me, but it also unsettled me, in part because Mrs. T's illness made it impossible for her to accompany me to Florida. It's been a long time since the two of us were separated for more than three or four days, and I was reminded of her temporary absence from my life when I watched the closing moments of "Emeralds," about which I wrote in my brief life of Balanchine:
Unlike Orpheus, whose terrible fate he had choreographed, Balanchine took for granted that earthly love must end in separation. Like the inescapable evanescence of choreography, loss was part of the cycle of life: "Choreography is like cooking or gardening. Not like painting, because painting stays. Dancing disintegrates. Like a garden. Lots of roses come up, and in the evening they're gone. Next day, the sun comes up. It's life. I'm connected to what is part of life." Only a fool, he knew, sought to prevent the inevitable.

In 1976 he added a coda to "Emeralds," a pas de sept in which the principal dancers of the ballet enact the stately sorrow of the incidental music Gabriel Fauré composed to accompany the death of Mélisande in Maurice Maeterlinck's Pelleás et Mélisande. At the very end, the ballerinas slip into the wings, vanishing like mist burned off by the morning sun, while their deserted cavaliers, left alone on the stage, sink down on one knee and gesture skyward in salute to…what? He never said.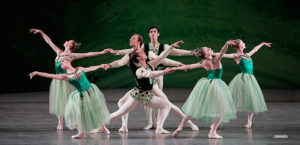 On the other hand, I'm well aware that to work on a play is to take time off from the rest of your life, be it good or bad. Mrs. T knows that, too, which is why she insisted that I fly down to Florida to rehearse Billy and Me. I offered not to go, and I meant what I said, but she wasn't having any of it. We're expecting, after all, that she'll be put on the active waiting list for a transplant as soon as I return, and once that happens, I'll be sticking close by her side. Our hope is that my spending a month and a half away from the day-to-day demands of caregiving will help to prepare me for the wait that lies ahead of us both.
Today, as it happens, is my day off, and I mean to spend it by myself. My plan, subject to revision without notice, is to eat breakfast, take a drive, go see a matinée of Lady Bird, work on an essay for Commentary, dine alone, and read myself to sleep. Come Tuesday, though, I'll be more than ready to return to the rehearsal hall, where I'll spend six straight hours thinking as hard as I possibly can about making my second play as good as it can possibly be, after which I'll return to the company condo and think about it some more. For me, Billy and Me is all there is—and for now, that's enough.
* * *
New York City Ballet dances excerpts from "Emeralds," the first section of George Balanchine's Jewels, set to the music of Gabriel Fauré and choreographed in 1967. This performance, originally telecast on PBS' Dance in America in 1977, was supervised by Balanchine and stars Merrill Ashley, Gerard Ebitz, Bonita Borne, Daniel Duell, Heather Watts, Karin von Aroldingen, and Sean Lavery. The costumes are by Karinska and the scenery is by Peter Harvey: