In today's Wall Street Journal I review the Broadway transfer of The Band's Visit. Here's an excerpt.
* * *
The best musical of the year has made it to Broadway. After a successful but far too short off-Broadway run at the Atlantic Theater, "The Band's Visit" has moved uptown with all of its wondrous charm and warmth intact. Directed with supreme finesse by David Cromer and performed by the best cast imaginable, this small-scale show is fine enough to fill you with fresh hope for a genre that has lately been running on fumes….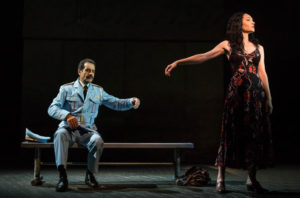 Adapted for the stage by Itamar Moses and David Yazbek from Eran Kolirin's 2007 Israeli film, "The Band's Visit" is the story of a fictional occurrence that was, as one of the characters readily admits, "not very important." The eight members of the Alexandria Ceremonial Police Orchestra, it seems, have traveled to Israel from Egypt in order to perform at an Arab cultural center located in the city of Petah Tikva. Such, at any rate, is their intention, but they're sidetracked en route by a mispronounced consonant: Since there is no "p" sound in Arabic, most English-speaking Egyptians automatically replace that consonant with "b." Slightly fractured English being the lingua franca of the modern-day Middle East, the musicians inadvertently find themselves in Bet Hatikva, a hopelessly provincial desert village whose cultural attractions consist of two restaurants, a roller rink, and a concrete "park" devoid of grass or trees.
In less knowing hands, this mishap might easily have been played for farce and nothing more. But while "The Band's Visit" gets plenty of well-deserved laughs in its opening scenes, Messrs. Moses and Yazbek are hunting bigger game. We soon discover that the members of the Alexandria Ceremonial Police Orchestra and the bored residents of Bet Hatikva who spend their days "waiting for something to happen" all have something in common: They long for their little lives to be enlarged by love.
Some of the rest you can guess for yourself, but part of what makes "The Band's Visit" so special is that it steers clear of the obvious….
* * *
Read the whole thing here.
The trailer for The Band's Visit:
The trailer for the original film version of The Band's Visit: