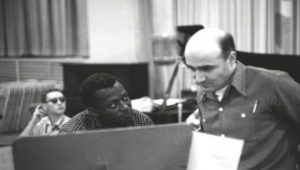 George Avakian's contribution to the history of jazz was significant beyond reckoning. He produced the first true jazz album in 1940, while he was still an undergraduate at Yale. He quarried Columbia Records' back catalogue to create the first major-label series of jazz reissues, starting with King Louis, a album of classic 78 sides by Louis Armstrong, to whom he eventually became personally close. By the Fifties he had emerged as a record producer of supreme importance, working with such artists as Armstrong, Duke Ellington, Miles Davis, Tony Bennett, Dave Brubeck, Paul Desmond, Erroll Garner, Benny Goodman, Gerry Mulligan, and Sonny Rollins.
As Avakian's career wound down, he evolved into an elder statesman of the music he loved, the man to whom you went in order to turn back time and find out what it had been like to work with the greats. I spent many hours interviewing him in preparation for the writing of Pops and Duke and found him to be utterly genial, wonderfully discursive, and the nicest of men with whom to spend time.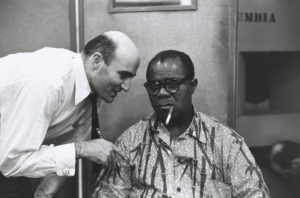 George remained so vital for so long that it was hard to grasp that he had been born in 1919, just two years after the Original Dixieland Jazz Band cut the first jazz recordings. The notion that he, too, would someday die was all but unimaginable, and when I learned that he finally left us this morning, I found it hard to believe. Fortunately, his musical legacy is permanent. No non-musician, not even John Hammond, has left a deeper mark on the world of jazz, and none was loved more dearly. I shall always miss him.
* * *
Ricky Riccardi, the great Louis Armstrong scholar, pays heartfelt tribute to Avakian here.
Marc Myers' obituary is here.