In today's Wall Street Journal drama column I review the Shakespeare Theatre of New Jersey revival of Ferenc Molnár's The Guardsman and the Broadway premiere of Amazing Grace. Here's an excerpt.
* * *
To American audiences, Ferenc Molnár is one of the best-known unknown playwrights of the twentieth century. In addition to "Liliom," which Rodgers and Hammerstein turned into "Carousel," more than a dozen English-language versions of his other Hungarian comedies were produced on Broadway throughout the '20s and '30s. But Molnár, who fled to the U.S. in 1940 to escape Hitler's wrath, was thereafter unable to rekindle his theatrical career other than fitfully prior to his death in 1952. Hence the importance of the Shakespeare Theatre of New Jersey revival of "The Guardsman," freshly adapted and zestily staged by Bonnie Monte, the company's artistic director. Not only is it great fun to watch, but you'll come home wondering why Molnár's plays are so rarely performed in this country. If they're all as good as "The Guardsman," we've been missing a bet.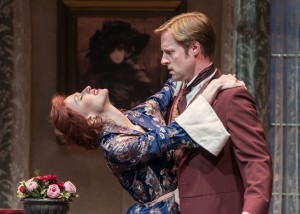 Originally written in 1910, "The Guardsman" is a dizzy farce about a theatrical couple (Jon Barker and Victoria Mack) whose six-month-old marriage is in serious trouble. The problem: He thinks she has a wandering eye. The solution: He disguises himself as a dashing young guardsman and puts her faithfulness to the test by attempting to seduce her. The catch: How can he be absolutely sure that she doesn't know it's him? While the premise is Shakespearean, the treatment suggests a screwball comedy directed by Ernst Lubitsch, with spasms of darkly neurotic obsession ("What is truth, old man, are the lies a woman tells") and ornate roulades of self-reflexive modernism that are all Molnár's own. Small wonder that Harold Pinter is said to have used "The Guardsman" as the basis for "The Lover": It's just his kind of did-she-or-didn't-she puzzle….
Ms. Monte is as fine a director as she is a writer, and her ensemble cast is up to all of Molnár's challenges, with Ms. Mack, a familiar face off Broadway, making the strongest impression as an elegant, startlingly tough-minded coquette…..
New musicals that open in the summer tend to be ill-fated, and "Amazing Grace," which purports to tell the "awe-inspiring true story" (so says the news release, anyway) of John Newton (Josh Young), the British slave trader turned abolitionist who wrote the words to the 1779 hymn, is unlikely to break that rule. It's not so much a musical as an anti-slavery pageant, with innocuous songs by Christopher Smith and a vertiginously high-minded book by Mr. Smith and Arthur Giron. This is the kind of musical in which the actors are required to say things like "It could be that you were given your gifts for just such a time as this" with straight faces….
* * *
To read my review of The Guardsman, go here.
To read my review of Amazing Grace, go here.
The original theatrical trailer for the 1931 film version of The Guardsman, starring Alfred Lunt and Lynn Fontanne: