In today's Wall Street Journal I report on three shows currently being performed at Ontario's Shaw Festival, The Twelve-Pound Look, Sweet Charity, and You Never Can Tell. Here's an excerpt.
* * *
Peter Pan is as familiar to American audiences as any fictional character of the 20th century, give or take…oh, Batman. But "Peter Pan," the 1904 play by J.M. Barrie in which he first took wing, is now known solely through Jerome Robbins' 1954 musical-comedy version. Barrie's original play is seldom staged here, and his other plays are almost entirely forgotten, even though he was one of Edwardian England's most successful playwrights (in which capacity he now figures on Broadway as a heavily fictionalized character in "Finding Neverland"). That's how Canada's Shaw Festival lured me up north this summer, with "The Twelve-Pound Look," a one-act comedy from 1910 in which Barrie donned George Bernard Shaw's issue-oriented hat to write a witty proto-feminist parable about what can happen to complacent husbands who seek docile wives.
The play itself turns out to be a gem, the tale of Harry Sims (Patrick Galligan), a soon-to-be-knighted domestic tyrant whose scared little second wife (Kate Besworth) engages a temporary secretary (Moya O'Connell) to help him answer his letters of congratulation. The temp is, of course, Sir Harry's first wife, and her arrival leads to an eye-opening wrangle in which two sets of eyes are opened. As for the production, Lezlie Wade's staging glitters like a well-lit disco ball…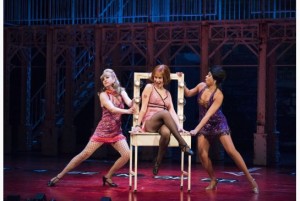 My time at the Shaw Festival was shorter than usual this year, but I did manage to catch two other fine shows. One of them was Morris Panych's revival of "Sweet Charity," a musical that is Shavian in its own class-conscious way, dealing as it does with the travails of a Manhattan dance-hall hostess with a heart of mush (Julie Martell) who longs to land a nice guy but keeps hooking frogs instead. Mr. Panych and Parker Esse, the choreographer, have shrewdly opted to ignore the familiar precedent of Bob Fosse, the director-choreographer of the original 1966 production, and stage "Sweet Charity" without a hint of his corrosive cynicism or hyper-sexualized dance moves. This puts a sweet spin on the proceedings, and Ms. Martell, who was so touching as a too-nice-for-her-own-good girl in the Shaw's 2012 revival of Terence Rattigan's "French Without Tears," plays the same card here to equally engaging effect….
No visit to Niagara-on-the-Lake is complete without seeing a play by the old boy himself, so I picked "You Never Can Tell," in which Jim Mezon, the director, keys into the Wildean non-sequitur dialogue of Shaw's 1897 comedy about modern love at a seaside resort, turning Dolly and Philip (Jennifer Dzialoszynski and Stephen Jackman-Torkoff) into a campy pair of Bright Young Things. Leslie Frankish, who designed the set and costumes, dresses everybody in Victorian duds and places them on an anti-naturalistic, boldly colored set that is nothing if not postmodern. The resulting antics are hectic but frivolously festive…
* * *
To read my Shaw Festival review, go here.
I also recommend in today's column the Irish Repertory Theatre's off-Broadway remounting of its 2013 production of Conor McPherson's The Weir, which I originally reviewed here.
Gwen Verdon, who created the title role in the 1966 Broadway production of Sweet Charity, sings "If My Friends Could See Me Now" on The Ed Sullivan Show. This performance, originally telecast on March 5, 1967, documents Bob Fosse's original staging of the number: