In today's Wall Street Journal I review a New Hampshire revival of A Garden Fête, one of the eight plays from Alan Ayckbourn's Intimate Exchanges cycle, and the Lincoln Center Theater premiere of Douglas Carter Beane's Shows for Days, which stars Patti LuPone. Here's an excerpt.
* * *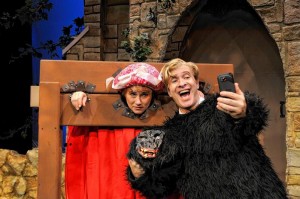 Alan Ayckbourn's "Intimate Exchanges," first performed in 1983, consists of eight intertwined full-evening plays in which two actors portray a total of ten characters. The plays all start in the same way, then shear off in different directions—and each one is equipped with its own pair of alternate endings. While the complete cycle can only be presented in a festival setting, all of the plays are free-standing and can also be produced independently, and the Peterborough Players, who mounted a first-class revival of Mr. Ayckbourn's "Absurd Person Singular" in 2013, are now doing "A Garden Fête," inviting the members of the audience to vote on which ending will be performed.
I had the good fortune to see Mr. Ayckbourn's own stagings of the eight "Intimate Exchanges" plays performed off Broadway in 2008 by two members of his own Stephen Joseph Theatre, Bill Champion and Claudia Elmhirst. Nobody stages Mr. Ayckbourn's work better than the playwright himself, but Gus Kaikkonen, Peterborough's artistic director, comes very close, for he understands that "A Garden Fête," like its seven companion pieces, is a dead-serious farce whose unfailingly uproarious horseplay cloaks a piercing vision of the limitations of human love. As always with Mr. Ayckbourn, the results are really, really funny, but the best jokes (if you want to call them that) are all double-edged and shiv-sharp, especially the ones that have to do with marriage…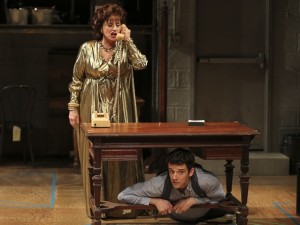 Many people who wind up devoting their lives to theater get their start in one of the countless small-town amateur troupes known as "community theaters." Some are as absurdly awful as the one that is satirized on screen in "Waiting for Guffman," while others are near-professional in quality. Most probably fall somewhere in between these two extremes. Douglas Carter Beane, who spent his teenage years acting with such a group, has now written a lightweight but charming autobiographical comedy—call it a memory farce—about what it's like to do Shaw on a shoestring. While "Shows for Days" is no masterpiece, it's unfailingly funny and disarmingly sweet, and if you've ever had anything to do with amateur theater, it will fill you with memories of the way you were once upon a time….
"Shows for Days" has a loosely knit, Kleenex-thin plot that makes an unconvincing swerve into melodrama after intermission. But the six actors, Ms. LuPone above all, squeeze every drop of comic juice from their campy zingers…
* * *
To read my review of A Garden Fête, go here.
To read my review of Shows for Days, go here.