In today's Wall Street Journal drama column I report from Wisconsin on American Players Theatre's productions of An Iliad, The Island, and The Merry Wives of Windsor. Here's an excerpt.
* * *
America has no finer classical actor than Jim DeVita, a 21-year veteran of Wisconsin's American Players Theatre. In recent seasons he's starred there in "Antony and Cleopatra," "The Critic," "Long Day's Journey into Night," "Macbeth" and "The Seagull," and the disciplined intensity of his performances in those widely varied roles has never failed to impress. This year, though, Mr. DeVita is outdoing himself in "An Iliad," the 2012 Lisa Peterson-Denis O'Hare monodrama that uses Robert Fagles' translation of Homer's epic poem as the starting point for a colloquial recounting of the Trojan War myth. It's a dream part for a first-class actor, and to say that Mr. DeVita fills the bill is to understate the case by several orders of magnitude.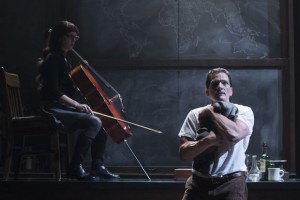 Working hand in hand with John Langs, the director, Mr. DeVita has made over the unnamed "poet" of "An Iliad" into an eccentric, hard-drinking teacher whose mission is to use Homer's poem to teach his students how war has the malign power to seduce men…
The manic, near-demented ferocity of Mr. DeVita's acting—think Robin Williams as a classics professor—is so all-consuming as to suggest that you're not witnessing a theatrical event but taking part in a real-life experience….
"An Iliad" is being performed in APT's 201-seat Touchstone Theatre, a thrust-stage house of unrivaled intimacy that is no less well suited to Derrick Sanders' revival of "The Island," the famous 1973 play in which Athol Fugard, writing in partnership with the actors John Kani and Winston Ntshona, puts you inside a chokingly tiny cell on Robben Island, the site of one of South Africa's most notorious apartheid-era prisons for political dissidents…
Yes, the play is nominally "about" apartheid, but its real subject is the transformative power of art and friendship, and LaShawn Banks and Chiké Johnson, who play the prisoners, are so far inside their parts that the word "realism" fails altogether to suggest the truth of their performances…
Should you feel the understandable need for a chaser after seeing "An Iliad" or "The Island," I recommend that you climb the hill to the company's 1,147-seat outdoor amphitheatre to see Tim Ocel's version of "The Merry Wives of Windsor," a warmly genial staging in which every line is enunciated with clarity and common sense….
Brian Mani, who proved his uproarious mettle as a stage comedian in APT's productions of George Bernard Shaw's "Widowers' Houses" and Somerset Maugham's "The Circle," here gives us a W.C. Fields-like Falstaff who oozes utter fraudulence from every pore…
* * *
To read my reviews of An Iliad and The Island, go here.
To read my review of The Merry Wives of Windsor, go here.