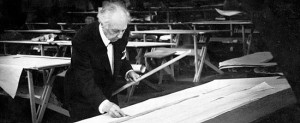 Twenty years ago Our Girl in Chicago took me on a tour of Frank Lloyd Wright's self-designed home in Oak Park, Illinois. It was the beginning of what was soon to become a full-blown obsession. Since then I've toured fourteen of the thirty-seven Wright houses that are currently open to the public, spent the night in six of them (two more than once), and viewed the exteriors of dozens of other Wright-designed buildings of various kinds.
That's why I brought along my copy of William Allin Storrer's The Architecture of Frank Lloyd Wright: A Complete Catalogue when I went to Wisconsin last week. It contains, among other things, the street address of every Wright building in the world, and since I was flying into Milwaukee in the morning and driving from there to Spring Green, Wright's home, I knew I'd have plenty of time to look at some houses along the way.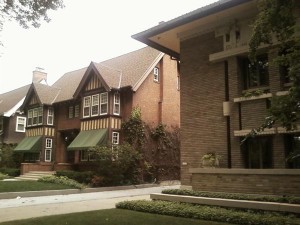 Milwaukee contains five buildings designed by Wright, most of them private residences. More often than not, his houses were commissioned by people who had a fair amount of money to spend, meaning that they were either built on large sites that are still surrounded by trees or in upscale neighborhoods that have stayed that way. The Bogk House, a two-story masonry residence built in 1916, is one of the latter, and it makes an impression that will be familiar to anyone who goes out of his way to look at Wright houses. It's an unostentatious building that fits perfectly onto its small lot and is surrounded by far more imposing homes, but no sooner do you catch sight of the Bogk House than they all seem to disappear from view.
Some of Wright's older houses, however, are located in areas that have changed greatly since they were built. Such is the case with the two small Wright houses and four duplexes that share a single block in Milwaukee's Burnham Park, which is on the other side of town from the Bogk House, not far from the airport. Built between 1915 and 1916, they were known as American System-Built Homes and were specifically designed to be affordable by working-class people. This was a goal in which Wright devoutly believed, though his painstaking methods made it impossible for him to turn his idealistic notion into a large-scale reality. (Joseph Eichler came a lot closer, but he was no more capable than Wright of overcoming the entrenched resistance of the homebuying public to midcentury modernism.)
A century later, Burnham Park is still a working-class neighborhood, but one that has long since fallen victim to urban decay. Most of the signs on the storefront businesses in the vicinity of West Burnham Street are in Spanish, and none of them suggests the immediate presence of any noticeable amount of wealth.
The most striking of the Burnham Park residences, known to scholars and specialists as the Arthur L. Richards Small House, is an 800-square-foot bungalow that has been meticulously restored by architectural conservationists. The exterior is in pristine condition and the landscaping is immaculate. To stand in front of this exquisitely designed house and look across the street is to feel as though you've somehow found your way to the borderline separating two worlds that have nothing whatsoever in common. It's a piercingly sad sensation, a feeling that the universe is out of joint.
From Milwaukee I drove past Madison, stopping off to look at one of my half-dozen favorite Wright dwellings, the two-story Walter Rudin House. Built in 1959 for a pair of mathematicians, it's one of eleven prefab houses that Wright designed in the Fifties for Marshall Erdman, a builder who shared his dream of bringing modern architecture to the masses. It didn't work—the houses ended up being too expensive for their intended buyers—but the Rudin House got built, and is gorgeous to behold.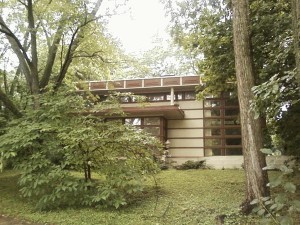 The house sits in a heavily wooded lot on a block full of ranch houses of similar vintage, all of them carefully kept and several of which were visibly influenced by Wright's ideas about what he called "the small house problem." Yet it, too, stands out from its surroundings, though not in high relief. The surrounding trees make the Rudin House somewhat hard to see from the street, and also give the present occupants (one of whom was home when I stopped by) a bit of much-needed privacy from pests like me.
I pulled into Spring Green that night, and spent the next three days seeing shows at American Players Theatre. Midway through my stay, I received an unexpected invitation from Minerva Montooth, one of the permanent residents of Taliesin, Wright's estate, to spend Sunday night in the guest bedroom of the main house. It seems she'd read "Spending the Night With Frank Lloyd Wright," a piece I wrote for The Wall Street Journal in 2005, and thought that I might possibly appreciate the opportunity to stay at Taliesin. Needless to say, she was right.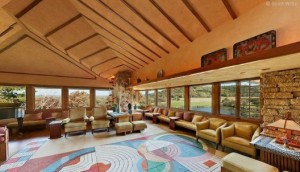 I'll be writing about my visit in the Journal next month, so I don't want to say much about it now. Instead I'll quote from what I wrote ten years ago:
To turn the key of a Wright house is to step into a parallel universe. The huge windows, the open, uncluttered floor plans, the straightforward use of such simple materials as wood, brick, concrete and rough-textured masonry: All create the illusion of a vast interior space in close harmony with its natural surroundings. Instead of walls, subtly varied ceiling heights denote the different living areas surrounding the massive fireplace that is the linchpin of every Wright house….
All this is true of Taliesin as well. But there's one big difference: you are at all times aware that Wright himself lived in the house, and designed it to suit his own needs and preferences. Wherever your eye falls, you see his stamp and feel his presence. It isn't an uncomfortable presence—he's more like a friendly ghost—but it's definitely there.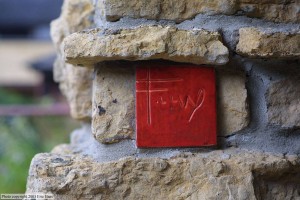 Now I'm back on the East Coast again, sitting in the living room of the century-old farmhouse apartment in rural Connecticut that I share with Mrs. T. It's a pleasant space, one in which we're more than content to live, but today I feel, as I always do after visiting a Frank Lloyd Wright house, that there isn't much I wouldn't give to spend the rest of my days in a building like the Rudin House. While I'm not one of those fanatics who has no interest in any other style, I've come to feel over the years that Wright's approach to domestic architecture is completely in tune with my own sense of how to live.
In 2005 I quoted a remark that Wright made about the Bernard Schwartz House, the first of his homes in which I spent the night. He called it "a house designed for utility and fecund living….in which there is no predominating feature, but in which the entire is so coordinated as to achieve a thing of beauty." I rather think I could put up with a leaky roof in return for such beauty.
* * *
From Bridge Over Troubled Water, released in 1970 Simon & Garfunkel perform "So Long, Frank Lloyd Wright," written by Simon: