In today's Wall Street Journal drama column I report on American Players Theatre's revival of A Streetcar Named Desire and the Hudson Valley Shakespeare Festival production of The Winter's Tale. Here's an excerpt.
* * *
Outdoor theater is one of the joys of summer in America—when the weather cooperates. When it doesn't, the results can be hell. I just saw an outdoor production of Tennessee Williams' "A Streetcar Named Desire" that took place in 90-degree heat and 90% humidity in American Players Theatre's open-air hilltop amphitheater, where air conditioning is, at best, a state of mind. The circumstances put me in mind of the best-remembered punch line from Neil Simon's "Biloxi Blues": "Man, it's hot. It's like Africa hot. Tarzan couldn't take this kind of hot."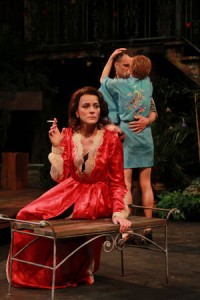 On the other hand, "Streetcar" is set in New Orleans in early May, a season whose vicious weather is epitomized in the grumbling of Stanley Kowalski, the unwitting villain of the piece, who can't understand why his sister-in-law Blanche insists on spending so much time in the bathroom: "Temperature 100 on the nose, and she soaks herself in a hot tub." It is, in fact, the quintessential hot-weather play, a steamy tale of subtropical passion gone wrong, and William Brown's stark, deliberately unpoetic revival makes the most of Wisconsin's sometimes brutal midsummer climate….
It is a truth universally acknowledged by actors that good casting is two-thirds of good directing. If so, then Mr. Brown, whose recent Chicagoland staging of John Patrick Shanley's "Doubt" already ranks as a highlight of the season, deserves all the credit in the world for casting Tracy Michelle Arnold, an actor of colossal force and incisiveness, as Blanche. Too often Blanche is played as a fluttery lost soul, when in fact she's a strong, unabashedly sexual woman whose only "sin" is the bone-bred prudery that prevents her from coming to terms with the tug of her sexual urges. Ms. Arnold and Mr. Brown are clearly on the same page here…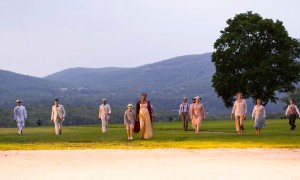 Davis McCallum, the new artistic director of the Hudson Valley Shakespeare Festival, has made his company debut with a production of "The Winter's Tale" that labors under the disadvantage of playing in repertory with Eric Tucker's outrageously innovative five-actor version of "A Midsummer Night's Dream." So let me say right up front that Mr. McCallum, whose off-Broadway directorial work has left no doubt of his exceptional talent, needn't worry about playing second fiddle to anybody. His "Winter's Tale" is a festive, fanciful garden-party romp that makes creative use of the full depth of the huge lawn of the Boscobel House and Gardens, on which the company pitches the jumbo tent under which it performs each summer….
* * *
To read my review of A Streetcar Named Desire, go here.
To read my review of The Winter's Tale, go here.
William Brown talks about his APT production of A Streetcar Named Desire: