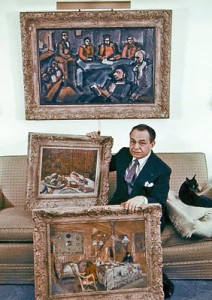 I've been reading All My Yesterdays, Edward G. Robinson's posthumously published 1973 autobiography. Contrary to his celebrated tough-guy screen persona, Robinson was an exceedingly literate and cultivated man, a regular concertgoer and one of golden-age Hollywood's leading art collectors. He was also a very liberal Democrat who, though never a Communist, was far enough to the left to make it into the pages of Red Channels. Hence I was more than a little bit surprised to run across the following passage in his book:
There is a magazine called The National Review edited by William Buckley, whom I have never met. I disagree with almost everything Mr. Buckley writes, and I know why I disagree. We come from different worlds; we can look at the same object or set of facts, and we will both, quite honestly, arrive at different conclusions. However, since I've never written a letter to him, this is the first he will know of it—even disagreeing, as I do, I love to read him. In the first place, I believe he believes what he's saying; and, indeed, he has something to say that needs saying even though I'm diametrically opposed; and, finally, he writes like a dream. What he does with the English language is pure joy.
I wonder whether Bill ever read this paragraph from All My Yesterdays, or heard about it. For my part, I found it to be a touching reminder that there was once a time when it seems to have been easier for public figures on opposite sides of the ideological fence to express mutual admiration. Bill himself was very good at it, as Kevin M. Schultz reminds us in a newly published book about his longstanding friendship with Norman Mailer. Both men genuinely appreciated each other's talents, and said so for quotation—often.
What happened to those days? Could it be that the political stakes are higher now than they were in 1973? (It certainly didn't feel that way back then.) Or is civility itself in the process of vanishing, not just from the political arena but from American culture as a whole? I can't say. I merely offer Robinson's thoughts for you to ponder.
* * *
Edward G. Robinson appears as the mystery guest on the December 16, 1962 episode of What's My Line? John Daly is the host and the panelists are Bennett Cerf, Arlene Francis, Dorothy Kilgallen, and Steve Lawrence: