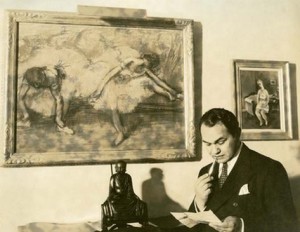 In today's Wall Street Journal "Sightings" column I write about Edward G. Robinson's art collection. Here's an excerpt.
* * *
What do the moguls of modern-day Hollywood do with their megabucks? When not illegally watering their megalawns, some of them megacollect art. Wealth-X, a consulting firm that specializes in what it calls "wealth intelligence," published a list of Hollywood's 10 top art collectors in April, and David Geffen, co-founder of DreamWorks, topped the roster. The estimated value of his smallish but choice modern-art collection (he is known to own paintings by the likes of Arshile Gorky, Willem de Kooning, Jasper Johns and Mark Rothko) is $2.3 billion, a third of his net worth. He reportedly sold Jackson Pollock's "No. 5, 1948" for $140 million—more than 40% of the Metropolitan Opera's entire annual budget—in 2006.
Hollywood's top-dollar collectors prefer to keep their leisure-time activities hush-hush, so it's hard to know how many of them are as serious about art as Mr. Geffen, or how much they really know about it. It seems a safe bet, though, that most of them go in for whatever is trendiest and/or costliest, and I doubt that many of them are remotely as passionate about art as was Edward G. Robinson, Hollywood's first major collector…
Robinson started out playing gun-toting gangsters in Depression-era hit movies like "Little Caesar," then shifted to more challenging character roles in such later films as "The Cincinnati Kid," "Double Indemnity," "Scarlet Street" and "Soylent Green." (He's still one of the best-remembered studio-era stars: TCM will be showing "The Cincinnati Kid" and "Little Caesar" next month.) In private life, though, he was nothing like the tough guys that were his original screen specialty. A classically trained stage actor and classical-music buff—his friends included George Gershwin and Igor Stravinsky—he started purchasing impressionist and post-impressionist canvases in earnest on a 1936 trip to Europe, five years after "Little Caesar" made him a superstar. Eight years later, he built his own private gallery to house the hundred-odd paintings in his collection. New York's Museum of Modern Art and Washington's National Gallery exhibited 40 of them in 1953, and the lineup included Bonnard, Cézanne, Degas, Gauguin, Matisse, Picasso, Renoir and van Gogh.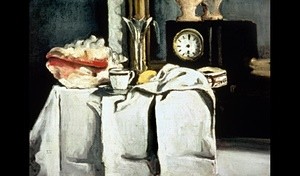 What began as a hobby turned into a compulsion, so much so that he and his first wife and son sat in 1939 for Édouard Vuillard, who did a pastel portrait of them. "It is short of a masterwork," Robinson cheerfully admitted. "Paintings on commission usually are. But it beats hell out of a Kodak snapshot." He even painted in his spare time, turning out, among other things, a very creditable copy of Cézanne's "The Black Clock," the jewel of his collection….
* * *
Read the whole thing here.
In case you didn't see it a couple of weeks ago, here is Edward G. Robinson's "window cameo" from "Batman's Satisfaction," an episode of Batman originally telecast by ABC on March 2, 1967: