My very good friend Ricky Riccardi, one of the world's foremost authorities on Louis Armstrong and a colleague as amiable and forthcoming as Satchmo himself, has just written a lengthy and valuable blog post about Satchmo at the Waldorf in which he takes issue with several aspects of my play, which he saw in New York last year. Ricky, as he readily acknowledges, is a scholar, not a drama critic, and it goes without saying (or should!) that scholars and playwrights have different priorities. Perhaps not surprisingly, then, his problems with Satchmo arise from its deviations from the factual record, not its effectiveness as a work of art.
I, too, have worn the scholar's cap, which is what made it possible for me to write Satchmo in the first place. Nevertheless, I don't claim that it is anything other than (as the title page says) "a work of fiction, freely based on fact." For this reason, I see no need to respond in detail to Ricky's posting. If you want to know which parts of Satchmo are true and which are made up, all you have to do is consult Pops, my 2009 biography of Armstrong. If it's in the play but not in the book, it didn't happen.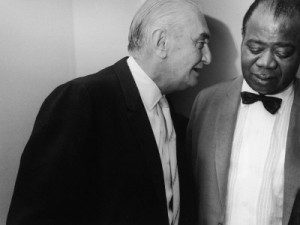 Ricky and I do, however, interpret certain crucial matters of fact in sharply different ways. The one that is most relevant in this connection is that he believes Armstrong to have remained staunchly loyal to Joe Glaser, his manager, to the very end of his life. Accordingly, he completely discounts the contradictory testimony of George Wein, who specifically states in Myself Among Others, his autobiography, that Armstrong claimed in 1970, a year before his death, that he believed himself to have been betrayed by Glaser. (According to Wein, Armstrong made this claim in front of Wein and two other witnesses.) That alleged betrayal lies at the heart of Satchmo at the Waldorf. Indeed, it is the hinge on which the whole plot pivots.
After seeing Satchmo off Broadway, Wein wrote to tell me that he thought my portrayal of the Armstrong-Glaser relationship, which is based in part on Myself Among Others, was accurate. Many other people who knew both Armstrong and Glaser have told me the same thing. For what it's worth, I believe that Ricky is absolutely wrong to dismiss Wein's first-person account, which I find wholly believable, and that the many contemporary public statements by Armstrong that he cites in evidence against it are just that—statements made for public consumption that ought not to be taken at face value.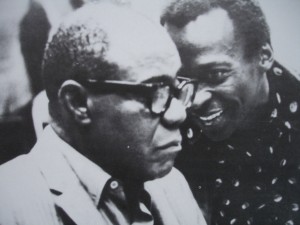 Ricky also contends that Miles Davis took a more benign view of Armstrong's old-fashioned stage manner than the fictional Davis portrayed in Satchmo at the Waldorf. Up to a point, I agree. The "Miles Davis" of Satchmo unequivocally calls Armstrong an Uncle Tom. The real Davis, by contrast, said different things about Armstrong at different times in his life, some of which closely track what he says in the play and some of which do not. My "Miles Davis," however, is a deliberately simplified version of the real Davis, a Greek-chorus character whose dramatic function is to embody the hostile attitudes toward Armstrong's public persona that were widely held by blacks of a younger generation—including, at times, Miles himself.
Finally, Ricky says that many people have told him that they came away from Satchmo at the Waldorf supposing that Louis Armstrong died broke and had to work until he died in order to pay his bills. Neither supposition is true, and I hasten to point out that the text of Satchmo at the Waldorf makes no such claim. To the contrary: "It ain't about the money, got me plenty of that," Armstrong says in the play. If you didn't hear that line, you weren't listening. For the record, I've talked to dozens of people who've seen Satchmo since it was first produced in 2011, and none of them has ever asked me if Armstrong was penniless when he died.
I have no doubt that Ricky would have preferred for me to portray Armstrong's relationships with Davis and Glaser in a less fraught manner, both in Satchmo and in Pops. I, on the other hand, believe that Armstrong's personality was darker and more complicated than the fundamentally optimistic (though in no way Pollyannish) Armstrong of What a Wonderful World: The Magic of Louis Armstrong's Later Years, Ricky's indispensable 2011 monograph. But our two books are in no way mutually contradictory: they are, rather, complementary.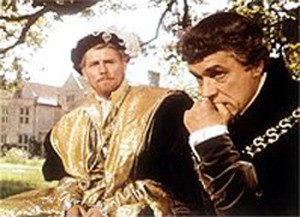 As for Satchmo at the Waldorf, it is, as I've said all along, a work of fiction, albeit one that I believe to be essentially accurate in its overall portrayal of the personality and attitudes of Louis Armstrong. Nevertheless, its "accuracy" is not that of a primary-source biography like Pops. Satchmo is a drama, with all the compression, simplification, transposition, and alteration implied by that word. If you've seen and enjoyed Abe Lincoln in Illinois or A Man for All Seasons, you'll know exactly what I was trying to do. (Amadeus, which is far more fictional than Satchmo, is another matter altogether, though I do believe it to be a great work of theatrical art.)
If, on the other hand, you prefer to stick exclusively to the plain, unadorned facts…well, you know where to find them!
UPDATE: A musician friend who read this posting responded by quoting Picasso:
We all know that Art is not truth. Art is a lie that makes us realize truth, at least the truth that is given us to understand.
To which another reader replied:
Please don't write any more plays about jazz musicians. Just because the play is fiction doesn't mean that you can make up lies, or base your plays upon things that you know are lies. Naïve theatregoers will walk away thinking that you know what you're doing.
I wonder whether he actually saw the play. Somehow I doubt it.