In today's Wall Street Journal I review two very different plays about the supernatural, the Public Theater's Shakespeare-in-the-Park production of The Tempest and a Baltimore revival of Blithe Spirit. Here's an excerpt.
* * *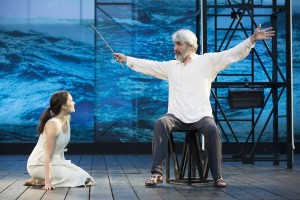 To see "The Tempest" acted under a night sky is like hearing "The Messiah" sung in a cathedral. Whatever the flaws of the production, the sheer rightness of the setting usually makes them forgettable, or at least ignorable, and you come away thinking only of the work. That's how I felt about Michael Greif's Central Park production of Shakespeare's sublime dramatic study of the redemptive power of forgiveness. I didn't agree with all of Mr. Greif's choices, but I was glad to go along with them, and by evening's end my cavils felt picayune: Nothing mattered but the truth and beauty of the play itself.
What is best about Mr. Greif's "Tempest" is its easy legibility—every line registers—and clear-eyed concentration on Shakespeare's theme. Sam Waterston's Prospero, for instance, suggests a comical Lear who has lived to profit from his hard-won moral understanding. Querulously, even petulantly angry at having been cast away on a deserted island and determined at first to exact his revenge, he chooses instead to let love have its way with his soul. Suddenly his sorcery turns inward and he becomes a new man, so fully transformed that he even learns to treat Caliban (Louis Cancelmi) not as a monster but as a pitiably wayward son—a masterly directorial touch that is well realized by Messrs. Waterston and Cancelmi. As his 2011 Public Theater "King Lear" revealed, Mr. Waterston cannot rise to the rhetorical occasions of Shakespeare's verse, but his sincerity does much to make up for this deficit…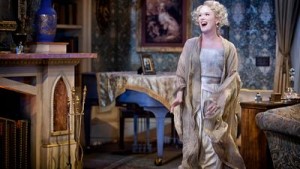 Noël Coward's "Blithe Spirit," that most shapely and cunning of farces, is so well made that it's impossible to do badly—but hard to do memorably. Witness Michael Blakemore's 2009 Broadway revival, in which Angela Lansbury's delightfully dotty Madame Arcati failed to make a sufficiently strong impression because of the uninspired efficiency of the rest of the production. Not so the far superior version now playing at Baltimore's Everyman Theatre. A starless production staged by Vincent M. Lancisi, the company's artistic director, this "Blithe Spirit" is an all-cylinders romp in which Nancy Robinette plays Coward's daft medium in a fluttery manner that immediately put me in mind of Elsa Lanchester—high praise indeed. Comparable kudos go to Beth Hylton, the ghost inadvertently summoned by Madame Arcati at a cocktail party, who plays Elvira as a sexy, dangerously willful woman-child. You'll have no trouble whatsoever supposing that she'd be capable of scheming to bring about her earthly husband's premature demise.
The Everyman performs in a 250-seat vaudeville theater built in 1911, then gutted and transformed into an up-to-date house whose neoclassical façade conceals a contemporary lobby and auditorium. The company is as impressive as its home…
* * *
To read my review of The Tempest, go here.
To read my review of Blithe Spirit, go here.
A montage of scenes from The Tempest: