In today's Wall Street Journal I review two regional Stephen Sondheim revivals, a Passion in Philadelphia and a Company in Bucks County, Pennsylvania. Here's an excerpt.
* * *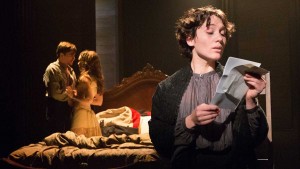 The gold standard for revivals of "Passion," the Stephen Sondheim-James Lapine musical about a lonely invalid racked with obsessive love, was set two years ago by Classic Stage Company's off-Broadway version, which featured once-in-a-lifetime performances by Judy Kuhn and Melissa Errico. But Philadelphia's Arden Theatre Company did so well by Mr. Sondheim's "Sunday in the Park With George" in 2010 that I was eager to find out what Terrence J. Nolen, who runs the Arden and directed that handsome-looking, unusually well-sung revival, would make of the even more demanding "Passion." Rejoice greatly: Mr. Nolen's new production is a masterpiece of unified staging and design in which the love-starved Fosca is played by Liz Filios in a manner so desperately needy that she'll be on your mind days after the fact.
Ms. Filios, to be sure, is not a natural Fosca. In addition to being far too pretty for a character whom Mr. Lapine describes in his stage directions as "an ugly, sickly woman," she has a sweet but very small singing voice. Hence her interpretation is a triumph of mind over matter—but triumphant it is. You'll have no trouble seeing how a soldier-hunk like Giorgio (Ben Michael) could fall victim to her all-consuming desire. As for Mr. Nolen's production, it makes well-judged use of the shallow thrust stage of the Arden's 360-seat house, which shows off Ms. Filios to ideal advantage. To see how he gets his points across by putting the 10-person cast in the right places at the right times is to learn a lesson in effective direction….
The Bucks County Playhouse, a grist mill by the Delaware River that was turned into a theater in 1939, used to be one of America's top summer-stock houses. Alas, it fell on hard times, closing down in 2010, but now it's back in business and presenting an increasingly ambitious roster of mainstream shows. When it comes to musicals, you can't get much more ambitious than "Company," the 1970 musical about modern marriage in which Stephen Sondheim and George Furth rewrote Broadway's postwar playbook. So I'm thrilled to report that Bucks County's new production, directed by Hunter Foster, choreographed by Lorin Latarro and starring Justin Guarini as the commitment-phobic, sexually ambivalent Bobby, is outstanding in every way….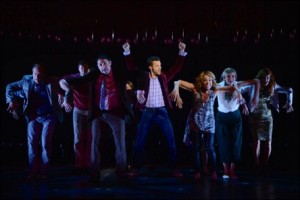 Working in tandem with Jason Sherwood and Jennifer Caprio, respectively the set and costume designers, Mr. Foster has chosen to produce "Company" not as a "Mad Men"-style period piece but in a modern-dress-and-cellphones version, discreetly altering the now-whiskery cultural references (Eleanor Roosevelt becomes Ruth Bader Ginsburg) to give it a fresher air. Not only does this approach work dramatically, but Bobby's morbid fear of settling down is, if anything, more to the point today than it was 45 years ago. The staging, which makes shrewd use of a turntable, speeds the cast from scene to scene with unostentatious fluidity…
Mr. Guarini's splendidly sung Bobby put me in mind of Dean Jones, who created the role in the original Broadway production. Initially affable yet guarded, he opens up in "Being Alive" to overwhelming emotional effect….
* * *
To read my review of Passion, go here.
To read my review of Company, go here.