In today's Wall Street Journal drama column I review a Boston revival of Moss Hart's Light Up the Sky and an off-Broadway remount of Annie Baker's The Flick. Here's an excerpt.
* * *
Moss Hart is so well remembered for his collaborations—he wrote comedies with George S. Kaufman and musicals with Irving Berlin, Ira Gershwin, Cole Porter, Rodgers and Hart and Kurt Weill—that few now recall his rare solo efforts. Yet Hart also wrote four plays of his own that got to Broadway, one of which, "Light Up the Sky," was a medium-size hit that opened in 1948 and ran for 214 performances. While it hasn't been seen in New York for a quarter-century, "Light Up the Sky" continues to be performed regionally, and it's being done twice this year, first by Boston's Lyric Stage Company and later on at Ontario's Shaw Festival. Curious to see how it held up, I checked out the Boston version and found it to be fluffy, funny, and performed with limitless panache by a choice ensemble cast whose nimble members never let a punch line go unpunched….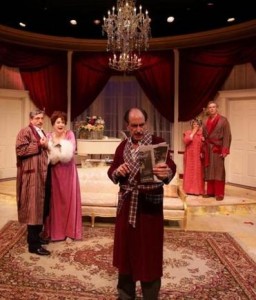 "Light Up the Sky" is a backstage farce about the Boston tryout (a neat coincidence!) of a way-too-earnest play called "The Time Is Now" whose cast, production team and naïve young author (Alejandro Simoes) are all in blissful ignorance of what will presumably be their fast-approaching doom….
A play full of plum parts demands canny and calculated staging, and Scott Edmiston, the director, makes trebly sure that nobody steps on anybody else's laughs. The members of his cast, most of them Lyric Stage veterans, are gloriously good…
The original production of "The Flick," Annie Baker's Pulitzer-winning play about a grubby single-screen Massachusetts movie house and its sad-sack staff, is now being remounted at Barrow Street Theatre after a 2013 off-Broadway run at Playwrights Horizons. It's a melancholy Kenneth Lonergan-style comedy in which Ms. Baker dramatizes the discontents of three young-to-youngish losers (exquisitely well played by Louisa Krause, Matthew Maher and Aaron Clifton Moten) who can't figure out how to make their way in a success-oriented world and fear, with good reason, that "it's never gonna get better." So far, so good, but Ms. Baker has taken what should have been a delicate little play and blown it up to three hours and 15 minutes by inserting portentous pauses (their exact timing is painstakingly specified in the script) that illustrate her characters' mutual alienation, and Sam Gold, the director, has aided and abetted her by throttling the tempo down to a glacial crawl….
* * *
To read my review of Light Up the Sky, go here.
To read my review of The Flick, go here.
The trailer for Light Up the Sky:
Louisa Krause talks about The Flick: