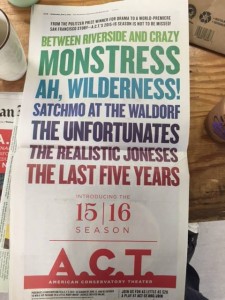 • If you visit this blog with even modest regularity, you know that the next stop for Satchmo at the Waldorf is San Francisco's American Conservatory Theatre, where the John Douglas Thompson-Gordon Edelstein off-Broadway production will be transferring in January. On Friday A.C.T. ran a full-page ad on the back page of the San Francisco Chronicle announcing its 2015-16 season, and my agent e-mailed me a photo that morning. It is, if I may say so without undue immodesty, way, way cool.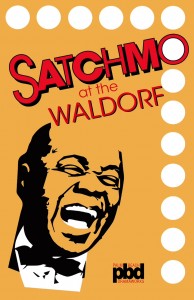 Later that same day, the South Florida Sun-Sentinel ran a story about Palm Beach Dramaworks' 2015-16 season that contained, among other things, reproductions of the posters for the five plays being produced there this coming season, all of them created by New York's Fraver/Fraver Design, a major name in theatrical poster art.
I saw and approved the Satchmo at the Waldorf poster a few weeks ago, and since then I've been boiling over with eagerness to show it off. Now that it's been released for publication, you can see it for yourself. I hope you like it as much as I do.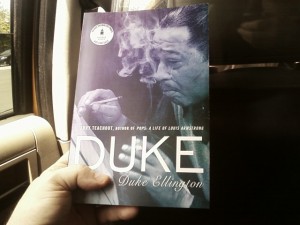 • I know not how or why, but Duke, my 2013 biography of Duke Ellington, unexpectedly turned up on the New York Times' list of best-selling books about culture for June 7, 2015. Among the other books on the list: Laura Ingalls Wilder's Pioneer Girl, Anne-Marie O'Connor's The Lady in Gold, Harold Bloom's The Daemon Knows, and Reynold Levy's They Told Me Not to Take That Job.
To see the complete list, go here.